If you're in the mood to browse quality record stores for a rare LP, then Seattle is one of the best places to be. With a rich history of local music and globally renowned acts like Jimi Hendrix and Nirvana, the city is chock full of record shops that serve up everything from indie, to hip-hop, to poppy new arrivals. No matter what your genre or sound preferences are, there's a shop curated to your tastes.
In fact, in many ways the hardest part about finding record shops in Seattle is narrowing down which spots are the best record stores for you. If you're more a fan of a small record store that specializes in rare vinyls, then your idea of the perfect day at the record store is going to be vastly different than someone who loves to browse a wide selection. Similarly, if you're in the market for a new turntable or stereo system, then a shop that also carries gear is going to top the charts. Of course, as with the records themselves, aesthetics and vibe are also a big factor when considering where you want to shop. A place with massive selection but fluorescent lighting is going to emotionally feel different than something cozy that requires you dig into the crates in a low-lit corner. 
So, whether you're new to Seattle, or you're a local who is finally getting into vinyl records, this list should help you narrow down your next stop on the quest for the ultimate record collection. It should be noted, these are numbered in no particular order, they are all solid options for very different reasons.
Image credit: Sonic Boom/Instagram
Sonic Boom Records has been one of the top record shops in Seattle since its opening in 1997, when northwest indie enthusiasts Jason Hughes and Nabil Ayers joined forces to open up shops in Fremont, Ballard, and Capitol Hill. 
The flagship shop blew up as a place-to-be after Hughes and Ayers invited Death Cab for Cutie to play in one of their shops, and that opened up the doors for decades of packed and memorable live performances by local and touring acts alike.
While Sonic Boom is extra ideal if you're an indie music lover, they carry new and used records across a wide variety of genres, as well as cassette tapes and CDs. So if you're looking to sweeten up your collection, it's likely they have something you're looking for. 
Also, the location at 2209 NW Market St in Ballard is open every day from 11AM-7PM, it's easy to find a time to pop in.
Image credit: Sonic Boom/Instagram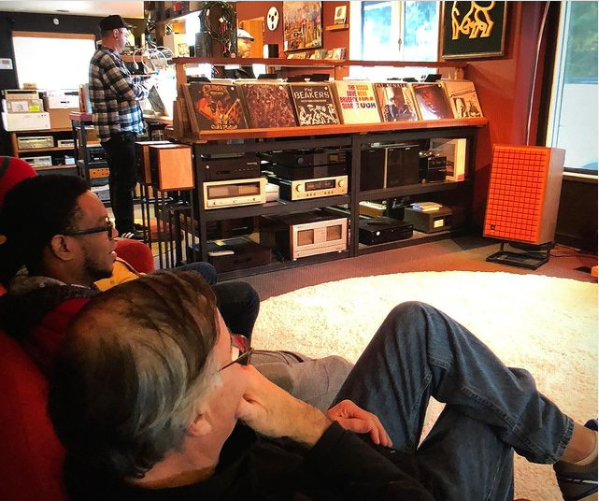 Image credit: Gig Harbor Audio/Instagram
A record collection is only as good as the equipment you play it on, which is why stopping by a shop with top-tier gear is essential. If you're looking to update your set-up, Gig Harbor audio is a fantastic place to browse anything from high-end used pre-amps to pristine Pro-ject turntables. If you're strictly analog, they have everything ranging from turntable cartridges to record players to ATR reel to reel as well as cassette tapes. 
If you're looking for some hi-fi electronics, Gig Harbor Audio also carries everything from tube amplifiers to wireless speakers so all of your listening experiences can be elite.
The store is located in the heart of Gig Harbor (roughly an hour on the outskirts of Seattle), at 3019 Judson St. Suite A.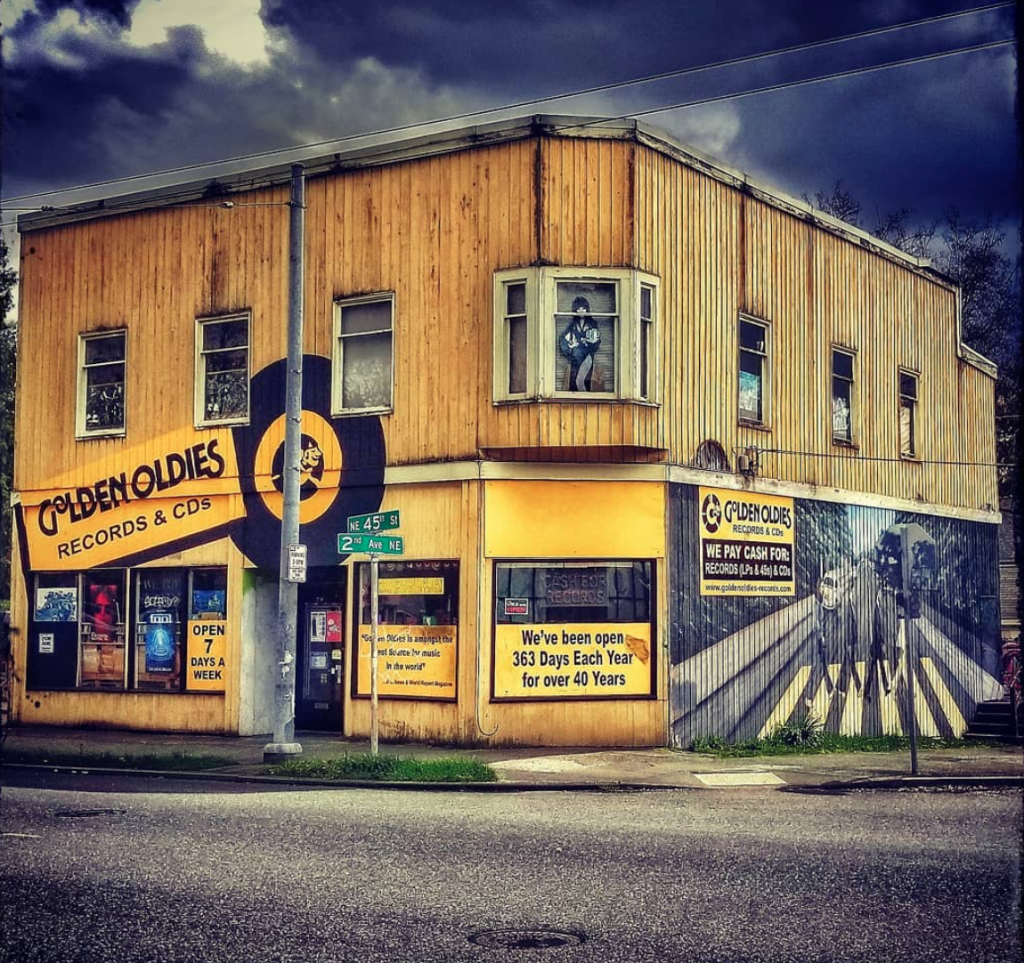 Credit: Instagram
If you're looking to score a rare or old vinyl, look no further than Golden Oldies. Nestled into the corner of Wallingford, Golden Oldies has been open since 1977, Golden Oldies isn't just one of the best record shops in Seattle, it's also got the title of "Seattle's oldest record store." 
Adorned with an Abbey Road mural and yellow exterior, Golden Oldies maintains its 1970s aesthetic while specializing in hard-to-find and out-of-print records. They also carry new vinyl, CDs, cassettes, and a selection of 8 track tapes.
In order to help customers cash in on rare finds, they create "want" lists of vinyls customers are searching for, and when an item is found, they notify the customer of the price and record grading of the lp. That unique service is free and can be accessed in-person, on the phone, or through their website. 
They also buy and trade records from collectors, so if you're looking to celebrate record store day (April 22nd) by trading, they are a great place to soak up old-school vibes and fall in love with something on the shelves.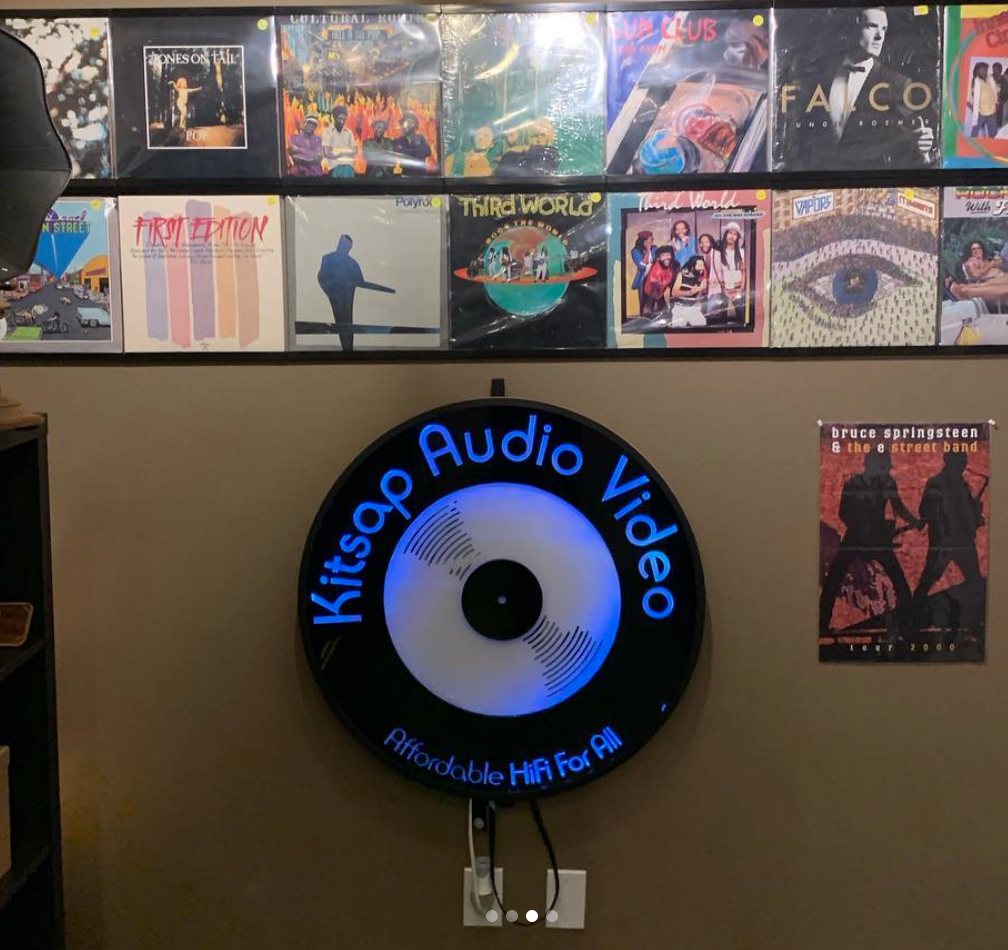 Image credit: Kitsap Audio Video/Instagram
If you're a hi-fi audiophile looking to add to your record collection or upgrade your gear, Kitsap Audio Video specializes in both affordable and quality hi-fi.
When it comes to updating your listening room, they carry subwoofers, turntables, preamps, DACs, wireless audio options, and used and demo gear. Plus, if you're looking to pick up a new vinyl, they have both new and used options spanning all genres. 
The shop is just outside Seattle in Silverdale, and is a great option if you want to grab gear and a new record in one trip. Plus, since it's not in the middle of the city, you have a better chance of scoring something golden before someone else gets to it.
Image credit: Holy Cow Records/Instagram
If you're stopping by Pike Place Market to watch the men toss fish, or buy yourself a warm crumpet, then it's only natural to make a stop at one of the best record shops in Seattle, Holy Cow Records. Located inside the market on Pike St, Holy Cow is a small but mighty shop that's been around for over two decades.
Holy Cow is an exclusively used record store that specializes in rare vinyl LPs and 45s, as well as a selection of CDs, DVDs, and various music memorabilia. It's a great spot if you're looking for a rare or weird find, or you want to actively buy, sell, or trade records and other music-related curios. If you're not in the Seattle area, you can also find their listings on eBay. But the true Holy Cow experience involves seeing the cow sign in person and eating a croissant from Le Panier right afterward.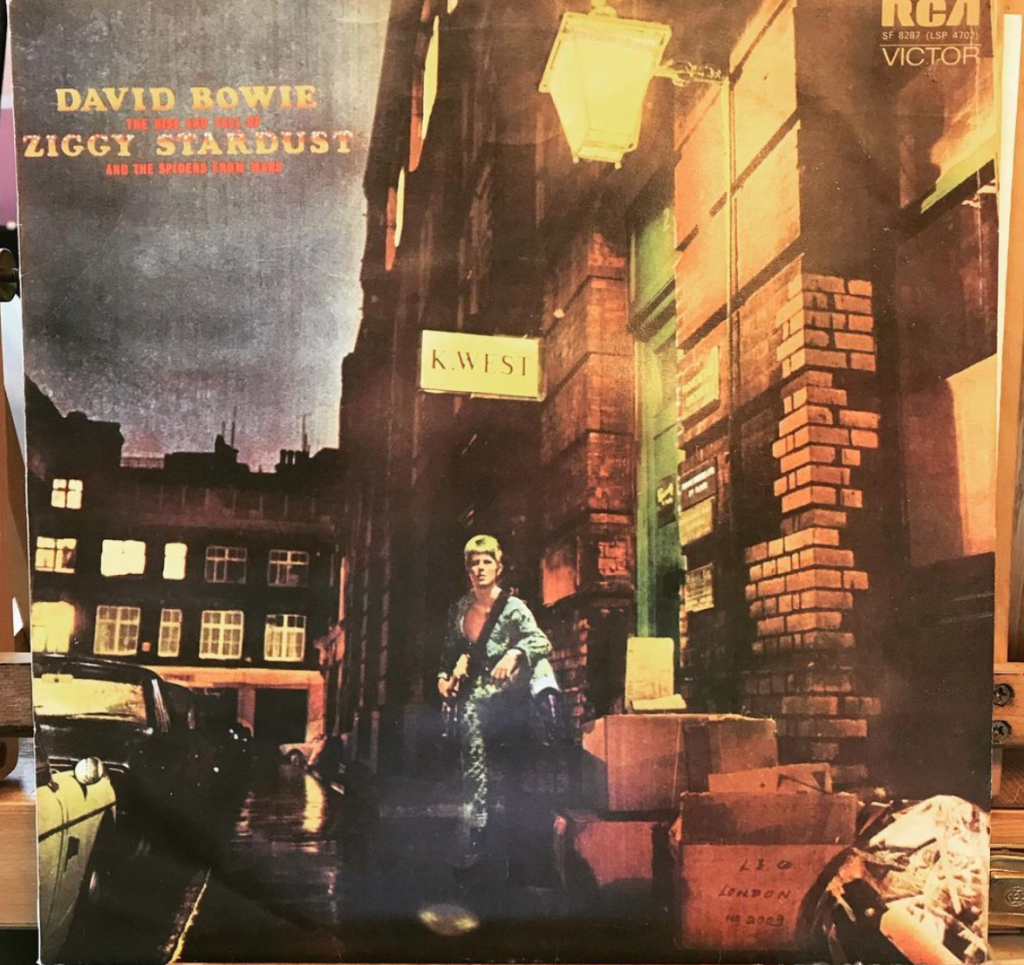 Image credit: Instagram/Georgetown Records
Georgetown Records shares space with Fantagraphics bookstore, so if you're a fan of comic books then a trip to the shop will give you even more to browse through. The shop is a hub for regular live music and performance events, giving people across different mediums a chance to connect and collaborate. 
Specializing in mostly used and a handful of re-issued vinyl LPs, Georgetown Records leans older in its selection. However, they don't sell online, so if you're in Seattle it's a great place to snag a find without worrying about online competition. But if you're far away, you'll need to save them for a brick-and-mortar shopping trip.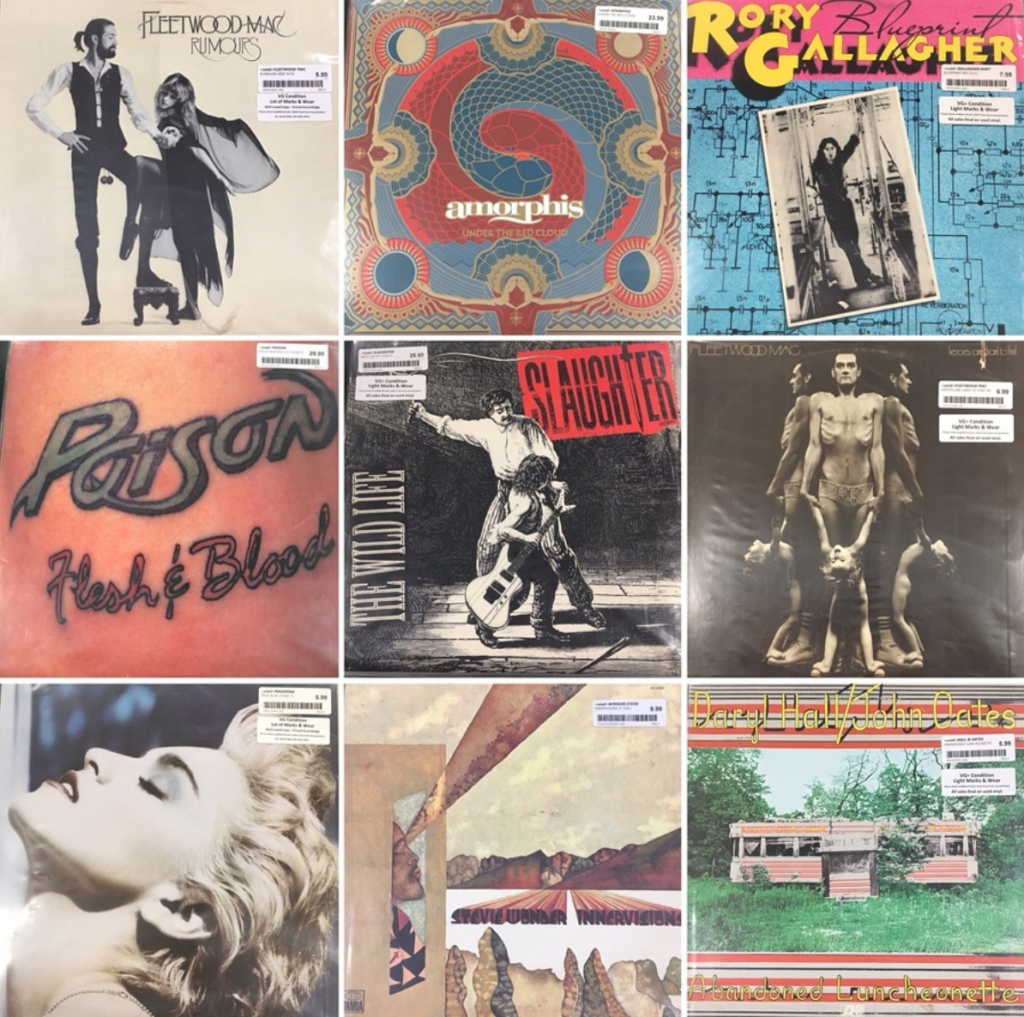 Image credit: Silver Platters/ Instagram
If you're looking to shop a large selection of vinyl records, CDs, DVDs, and even books, the local Seattle chain Silver Platters is the place to be. Spanning across all genres, from popular new releases to avant garde used records, Silver Platters is an ideal place to go if you're looking to grab multiple kinds of records at once, you want to grab a Blu-ray DVD, or you just feel like browsing a large selection.
If you like getting lost and overwhelmed in a large store full of goodies, then this is it. 
Notable Record Shops in Seattle
When on the hunt for the best record shops in Seattle, there are so many Seattle record stores to get lost in. It only feels fitting to add a few footnote mentions that are great options for the niche record collector. 
If you're a big punk or metalhead, then Belltown's Singles Going Steady (appropriately named after the Buzzcocks album) is a must-stop spot. It's an idyllic level of crusty, with a full-on Hellraiser statue haunting you from the corner.
On the Corner of 12th and Pike, you'll find Wall of Sound, a top pick if you're looking for jazz, noise, avant-garde, or electronic music. This shop has remained weird and adventurous since 1990, which is a feat in the age of streaming music.
A trip to Stumbletown Records smells like chocolate because the shop is connected to Chocolat Vitale, which sells coffee, chocolates, and other delicious treats. The record selection itself is confined to a small space, so you gotta love digging through crates yourself, but there will be chocolate and coffee there to fuel you.
Last but not least of the notable mentions is the Central District's Selector Records and Apparel, which deals in imported and underground dance music. This is ideal if you're a DJ, an aspiring DJ, or you just love a rare dance record.
And if you're stocking up on used vinyl, be sure to check out our guide to cleaning records before you drop your stylus on them.