While Manhattan has long been one of the best places to shop for vinyl records, Brooklyn has become something of a hidden gem for audiophiles throughout the city. The best record stores in Brooklyn have sprawling collections of both new and vintage LPs, and finding your favorite genre is simple.
The experience in Brooklyn varies from spot to spot; some of the record stores are small but have some truly rare vinyl and other stores are truly massive with library-like collections. In fact, the borough is home to one of the largest stores in the city itself!
Consider taking a subway trip on your next record store day and see what New York's largest borough by population has to offer for your sonic experience. Not sure where to start? Are you new to the city? Take a look at our guide to the best record stores in Brooklyn so that you'll have all the info you need to build up your collection.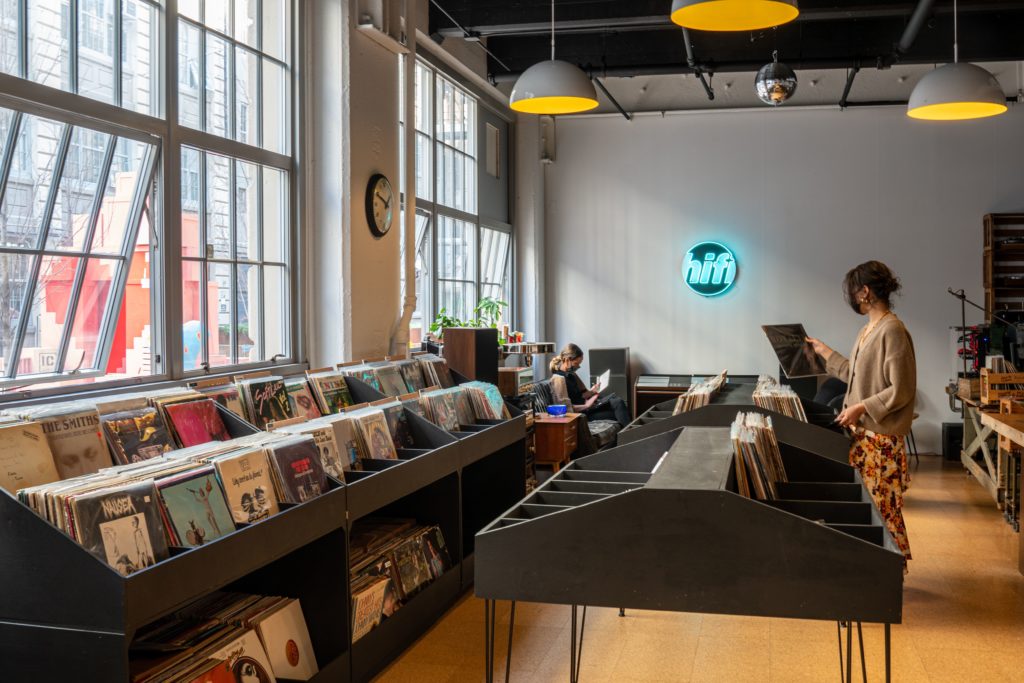 Having only opened up in 2021, HiFi Provisions is a music store that specializes in vintage audio, from vinyl records to record players. For example, it's easy to find audio equipment throughout the store from McIntosh, Fisher, ProAc, and of course, Pro-Ject. At HiFi Provisions, they also purchase vinyl, vinyl turntables, and speakers.
This store is a testimony to the love of its owner, Matthew Coluccio. Out front, there are wooden racks featuring several vinyl gems. Many of the records are vintage, but there are some newer LPs as well. The entire store has a cozy feeling, and don't be surprised if you come across one of Matthew's audio tinkering projects, which usually involves analog tube amps. Coluccio is also known for his willingness to travel for rare records, so don't be surprised if you come across something truly one-of-a-kind. Genre-wise, you'll find something for most musical tastes, except for classical recordings.
A local homage to the explosion of Tokyo-based music bars, Public Records is where you can find your favorite LPs while listening to live or vinyl-recorded music. Public Records serves cocktails, vegan food, and non-alcoholic drinks and is catered by local restaurateur Henry Rich. Peruse their extensive list of records in the Sound Room, and check out the vinyl record players for sale here, which include models from Pro-Ject.
The Sound Room is known for its intimate performances that are held almost every day. Public Records is genre-agnostic; you can find pressings from multiple artists from several different record labels here, and from day to day, live performance styles will vary similarly. The venue's construction also promotes sonic integrity; when music is playing via the vinyl player or live instruments, it resonates with a clarity that is perfect for the audiophile looking for their next immersive experience.
Black Gold Records is a small, intimate vinyl shop located on Court Street in Carroll Gardens. They do not have a massive collection of records, but they offer some exciting vinyl, including Motown classics. They also sell vintage and antique items that will catch your eye as you walk through the shop.
One of the reasons this place stands out from the rest of the records stores in Brooklyn is because it's also a coffee shop. Listening to music and sipping a cup of cold brew makes it easy to lose track of time at Black Gold Records.
Located on Oak Street in Greenpoint, Academy Record Annex is known for having the largest selection of records in New York City. In addition to having such a vast collection of vinyl, this is a place to find rare memorabilia like t-shirts and posters for specific bands. They even have magazines with articles about the musicians.
In addition to work from artists around the world, you can also find work from local artists in this Brooklyn music shop. Regardless of what you are searching for, the vinyl is well organized, so finding a specific album should be easy to manage if they have a copy for sale.
Earwax Records is one of the oldest record stores in Williamsburg, and it's one of the most recognized names in Brooklyn. Founded in 1990, the store has both new and used records in every genre. They carry various classics from the 60s and 70s and more contemporary music to complete your collection. If you need a vintage record player, they can be found at this store as well.
Since the owner has over 40 years as an experienced DJ, he has a love for music that only hardcore fans will understand. If you are visiting the shop, look for handwritten notes describing some of the records available for purchase.
While the storefront location for Turntable Lab has closed down permanently, the Brooklyn-based company, which has been in operation since 1999, runs one of the most hands-on online shops in the country. The shop has something for everyone but very much caters to DJs. This is because the founders actually were DJs and still have a staff mainly comprised of DJs and musicians.
As a result, Turntable Lab is a place where you can find high-end vinyl turntables, such as the ones offered by Pro-Ject, as well as an extensive collection of vinyl records. You'll also have an easy time finding things like record slipmats, adaptors, and vinyl storage items so that your collection is protected.
When you talk about the best record stores in Brooklyn, Rough Trade of Williamsburg was typically the most widely known. This sprawling record store felt like the Library of Congress for vinyl since its catalog of new and vintage LPs is massive. Not only did the venue serve as your on-demand location for vinyl, but over the years, several famous acts performed on its concert stage.
Unfortunately, Rough Trade recently announced that it would be closing this location after seven successful years. This isn't the end though – they have opened a new location across the river in Manhattan.
Honorable Mentions
If you are hunting for specific records in Brooklyn, there are several shops to check out and get lost looking through the vinyls.  Here are some of the best record stores in Brooklyn that an audiophile looking for a specific niche collection should consider visiting.
Check out Record Grouch on Manhattan Ave in Greenpoint, where they feature the work of local musicians. They have a wide selection of music, and if you want to hear an album before purchasing it, there is a turntable available to see how the records sound.
The Mixtape Shop is a record shop that offers more than just great music. If you are near Bedford Ave in Bedford-Stuyvesant, make sure to stop and explore the shop while grabbing some banana bread and a cup of coffee.
Brooklyn Record Exchange, located in Bushwick, was formerly known as Co-Op 87. It is one of the best record stores to explore if you are into funk and soul records. They have a wide selection, and many of these are sold for just a few bucks. Don't forget to bring your headphones to sample the music!
If you are looking for punk, avant-garde, or just hardcore sound, check out Material World Records to find vinyls for your collection.  They even have a collection of cassettes to explore.
Vinyl Fantasy is a record store where you can sell, buy, and trade vinyl. They have jazz, punk, classic, and indie rock at their location, and they also sell classic and indie DC and Marvel comics.
Music Matters is a record store that has been located in Park Slope since the 90s. They have a large selection of vinyls, CDs, and cassette tapes. They even carry some hardware in case you need something during your visit.
Human Head Records in East Williamsburg has every type of vinyl, from reggae and jazz to 80s boogie and prog rock. They also sell refurbished turntables and brushes for cleaning records before playing them.
If you want to listen to live music while visiting Bushwick, Second Hand Records NYC is a great place to start because they have a studio in the back of the store. They sell new and used LPs and offer a great selection of hip-hop, jazz, rock, and funk.