Whether you're new to the world of record players, or you've always loved jamming out to a turntable but never fully understood the ins and outs, it's crucial to learn the basics of a record player setup so you can create the best listening experience possible.
Building the perfect turntable setup is going to look different for everyone depending on your space, budget, and personal preferences, but having a strong foundational understanding of what makes the magic happen is necessary no matter what.
Before jumping into a few high-quality record player set-ups, it's helpful to go over how each part helps amplify your vinyl records so that you can tap into the best sound quality possible.
A Phono Preamp For Your Record Player Setup
When you put your favorite record on, the turntable creates a phono output signal. In order for you to actually hear the beautiful notes through your amplifier, the phono signal needs to be converted to a line-level signal (this is also called an aux signal). The aux signal can then be played through hi-fi stereo systems, powered speakers, and even computers. The phono preamp does the work of converting the phono signal to a line-level (aux) signal.
It should be noted that some turntables have a preamp already built-in, if your turntable has a USB output, that usually means it has a built-in preamplifier. On older models, you can look for inputs on the back marked "phono" to check if they already have a built-in preamp. DJ mixers can also be used as preamps. If you need to buy a separate standalone phono preamp for your listening corner, you'll need the right cables to connect to your audio system, in most cases RCA cables will do the trick.
Grounding Your Turntable
If your turntable doesn't have a built-in preamp, you'll need to "ground" it in order to avoid hum. Luckily, turntables that require grounding already come with a cable that connects the turntable to your sound system. The record player needs to be turned off during the process of locating the grounding wire, finding the terminal for it in your hi-fi system, and then making sure all components are placed close enough together to connect. If you forget or skip this step, your overall sound quality will be affected and you'll likely notice hum.
Speaker Placement for a Record Player Setup
When it comes to how you experience music in your home, speaker placement is going to be a major factor. You want the sound to travel enough to fill up your space, but also not overpower your ears, or create any feedback. For this reason, making sure you find speakers with built-in protections against damage, falling, or interference with other electronics is an important consideration, as well as finding a design that can be hoisted onto a base or seated on the ground according to your preference.
Now that we've gone over a few of the (many) major factors to consider when designing your vinyl set-up, let's go through a few pieces of high-end audio equipment that pair beautifully together.
Pro-Ject T1 Phono SB with Stereo Box DS2 and Speaker Box 5
The T1 Phono SB turntable from Pro-ject is a sleek hi-fi record player that comes with a glass platter, a built-in-phono preamp and electronic speed control so you can adjust your listening speed from 33 to 45 RPM without worrying about causing damage to the record grooves by doing it manually. The tonearm bearing is low friction and vibration-free which makes for ideal tracking force, and the tonearm itself is made of light aluminum and gentle on your records (it has an integrated headshell, making it a one-piece tonearm design).
The new turntable pairs great with the Stereo Box DS2 from Pro-ject, a stereo integrated amplifier that comes with five phono inputs and moving coil and moving magnet phono stage. The Stereo Box DS2 gives you the simplicity of a classic stereo system, while also giving the listener a preamp section with high-quality phono stage compatible with moving coil and moving magnet cartridges. The RCA line inputs can be connected to CD players, DACs, and streaming devices, and there's even a Bluetooth receiver if you wanna dig into some wireless playback from your phone.
The variable and fix RCA outputs are compatible with active speakers, or a subwoofer, and the ¼" headphone output gives ample headroom to even the most heavy duty headphones. This all comes in a far more compact design than many equally detailed stereo systems.
The Speaker Box 5 from Pro-ject includes two compact bookshelf speakers, perfect for a modest record player setup. The 2-way monitors use a bass-reflex enclosure design and are magnetically shielded to make them safe to sit near computers and other sensitive electronics in your listening corner. The speaker system does the work to show off your favorite records' most lively dynamics and rich bass. You can find them in black, white or red, and they work great alongside the Stereo Box DS2 and the T1 Phono SB to create an ideal analog listening experience.
Pro-ject Debut Carbon EVO with Tube Box DS2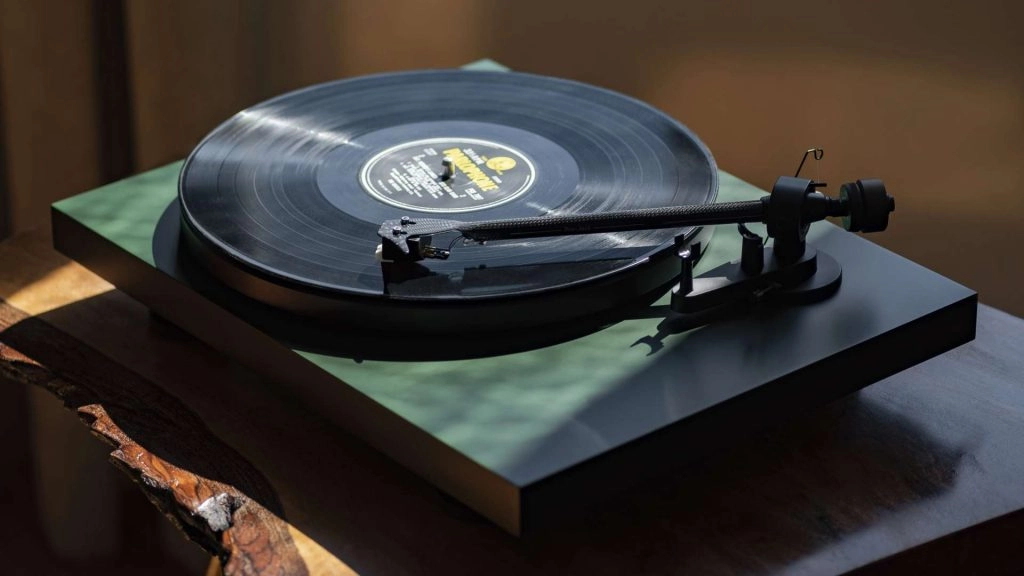 The Debut Carbon EVO from Pro-ject turns both heads and ears with its sexy satin finish (complete with real walnut veneer), motor shielding and suspension, and its adjustable isolation feet. This turntable comes with a Sumiko Rainier Moving Magnet phono cartridge, an electronic speed changer and stabilizer so you can switch between 33 and 45 RPM (it's also able to play 78RPM), and low-friction sapphire tonearm bearings to keep your records in pristine shape, and an 8.6' one-piece carbon-fiber tonearm. You can pick from an 8-coat lacquered finish in three high gloss colors, 5 satin matte finishes, or real walnut veneer, whatever fits your aesthetic best. And it comes with a felt record mat and a two-year parts and labor warranty in case you party hard with your new record player setup.
The Tube Box DS2 from Pro-jet is a phono preamp that runs compatible with both MM and MC cartridges. It includes two turntable inputs so you can use it for multiple record players, or connect it to the same turntable after you've swapped cartridge types. It has an adjustable input impedance that works well with low output MC cartridges, and also features input capacitance for MM cartridges as well as a subsonic filter that helps clear out any mechanical noise. The dual mono circuitry works to optimize channel separation while maintaining the crucial quality of sound, and the selectable subsonic filter works to protect both your ears and speakers. The sandwich alu metal casing protects from electromagnetic interference, so you can avoid conjuring any angry electrical signals, and the RCA in and outputs are plated in gold to give a kick of style. 
Visually, you can opt for a silver or black finish, with or without wooden side panels, whatever floats your boat.
As already mentioned above, the Stereo Box DS2 from Pro-ject (here in silver) is an all-star product that pairs well with multiple turntables and speaker systems. When it comes to mixing and matching with different speaker types, the volume control with motor driven potentiometer is an asset. The fixed and variable outputs for both subwoofer or second zone amps make for easy set-up, and the three analog inputs and one Bluetooth input allow for multiple configurations depending on what floats your boat. Of course, when it comes to connecting to the record player itself, the Stereo Box DS2's built-in phono preamp makes it simple, particularly since it's compatible with both MC and MM turntable cartridges.
The Speaker Box 10 from Pro-ject includes two audiophile floor-standing speakers that serenade vinyl lovers with refreshingly low coloration, a rich depth of sound without sacrificing specificity, and lively dynamics, and of course, soulful bass. Visually, they lend a heaping dose of style to your listening corner with a luxurious rigid glass base protected by adjustable spikes, all tied together with a high-gloss lacquer finish in black, red, or white. Both aesthetically and soundwise, the Speaker Box 10 is a great option to pair with the Stereo Box DS2.
Of course, as with all decisions when it comes to your record player setup, creating the ideal musical space is going to look different for every audiophile. Everything from your preference in turntable cartridge and stylus, to your decorating taste and available space is going to inform which type of audio equipment you're drawn to. Even when you've found your ideal combination of gear, you'll want to make sure that you're eyeballing the speakers that work best with your preamp (or mixer). For this reason, it can be helpful to check out some curated combinations in order to zero in on what you need, and Pro-Ject USA is a consistent heavy hitter when it comes to creating high-quality products for vinyl lovers.
Once you've sifted through the best recommendations and options for a record player setup, you can hunker down on the fun part: the final act of mapping out where it will all sit in your room. This is the ultimate challenge and joy of setting up a dedicated listening space.