Visiting amazing record shops in search of vinyl essentials is by far the best part of collecting records. There are few more simple and lasting joys than carving out a space to listen to your favorite music. As with all things art-related, there have been endless arguments over the question of what makes up an essential album.
Your preferred genres are always going to play into this question, as well as the way you approach music. Some people prioritize the beat over everything, while others will happily sit through slow ballads if they have intricate lyrics. Naturally, any record that got you through a breakup or an angsty teen phase is going to hold more emotional power than a trending billboard chart album. The overlap between personal music taste and what's widely loved is going to vary depending on the person, which makes any attempt at naming the "best albums" a practice in subjectivity.
When it comes to essential vinyl records, there are some universal factors that help narrow it down. Because turntables are analog devices, some recordings will simply translate better to vinyl. Regardless of your taste in music, there's no denying the way that some albums sound fully realized on vinyl, while others lose their sound quality in translation. With this in mind, we've compiled some of the best vinyl albums to take for a spin on your turntable, both for the sound quality, and the music itself.
The 12 Vinyl Essentials Every Vinyl Lover Needs
David Bowie – The Rise and Fall of Ziggy Stardust and the Spiders From Mars
The fifth studio album from David Bowie managed to break the mold among an already rich and creative body of work. Channeling his androgynous alien alter-ego Ziggy Stardust, Bowie gives listeners a fully realized 1972 glam rock experience. If anything is meant to be played on vinyl, it's an album about a space-traveling rock star delivering a message of hope to earth, only to be ultimately destroyed by his own fame. The sound editing and pure theater of this album are best served in analog.

Pink Floyd – The Dark Side of the Moon
Identifying as a vinyl lover without grabbing a copy of Pink Floyd's eighth studio LP feels deeply contradictory. The psychedelic rock journey of The Dark Side of the Moon is one best heard sitting on a pillow on the floor, while incense burns and your turntable blasts "The Great Gig In the Sky." The rainbow prism-laden album cover, designed by Aubrey Powell and Storm Thorgerson of Hipnogsis, also made its mark as one of the most iconic album covers of all time.

It's hard to argue against the best-selling album of all time. The sixth studio album from Michael Jackson is full of danceable bangers even the most forgetful person can sing along to. If you want to get guests on the dance floor during a party you're hosting, then putting Thriller on for a spin is the forever move. Regardless of whether you identify as a "Pretty Young Thing" or more of a "Billie Jean," having the post-disco sounds of Thriller in LP form is a fool-proof move.
Whether you're a die-hard hip hop fan, or you just have a soft spot for the Beastie Boys, Paul's Boutique is arguably one of their best albums to hit the shelves. The sophomore album that received the nickname "Sgt Pepper of hip hop," features intricate multi-layered sampling best appreciated on vinyl. Produced by the Dust Brothers, this album set out to be more experimental sonically, and it shows in the listening experience. The cover art and gatefold also feature a rich sunny photo of Ludlow Street, a true time capsule to late 80s NYC.
When he set out to release his eleventh album, Marvin Gaye was not afraid to break the rules. Often cited as the first album self-produced by an artist, What's Going On doesn't hold back creatively and politically. With nine full songs written from the perspective of a Vietnam War veteran returning to the mayhem of America, it's an account that plays best through the vinyl format it was mastered for. Hearing Gaye's 1971 commentary through the sound quality of a turntable just makes sense.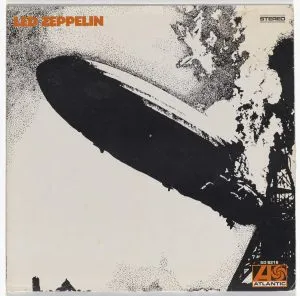 The self-titled debut album from Led Zeppelin has made its marks in the ranks of great albums in general, but also, albums that are best appreciated in LP format. As we all know now, Led Zeppelin's striking fusion of blues and rock immediately topped the charts in both England and America. While producing this album, Jimmy Page used a "distance makes depth" approach which harnessed natural room ambiance to enhance recording texture. This texture is best heard with the holographic sound that exclusively comes from a turntable listening session. The cover art, which shows the burning Hindenburg airship from the 1937 disaster, is both iconic in its visuals and the controversy it caused.

Few albums feel more like they should be played on vinyl next to a rainy window more than Bob Dylan's seventh studio album Blonde on Blonde. Replete with Dylan's poetic songwriting, and his gritty but heartfelt vocal style, this double album is the pinnacle of 1960s energy. If you can find yourself a clean-cut vinyl of Blonde on Blonde, few listening experiences feel more apt than hearing his 11-minute "Sad Eyed Lady of the Lowlands" crooned through a phonograph. When it comes to sonic quality, Dylan's musical style lends itself best to vinyl in general, so adding him to your collection is always a win.

Funkadelic pulled out all the punches with their third studio album Maggot Brain. The gatefold of the album features an article excerpt exploring fear: "Fear is at the root of man's destruction of himself. Do we know the extent to which we are at war with one another – on every level from personal to worldwide – because we are afraid?"
The choice to include a philosophical question in the LP packaging falls completely in line with the ethos of Funkadelic in 1971. Best known for the 10-minute title track in which frontman George Clinton performs LSD-fueled spoken work, Maggot Brain not only topped R&B charts, it helped redefine the possibilities of funk for future musicians. 

Drawing inspiration from Miles Davis' Bitches Brew and the Beach Boys' Pet Sounds, the already successful Radiohead broke their own musical mold in 1997. Wanting to part from the Brit Pop revival they saw their peers lean into, Radiohead hunkered into an Elizabethan manor house to record melancholic classics like "Karma Police," and "Paranoid Android." 
The album art, much like the music itself, is meant to convey a world of social isolation, and mindless consumerism. During production, the band harnessed natural reverberation by recording on a staircase, the effects of which are best heard moodily played through your turntable.
The eleventh studio album from Fleetwood Mac is the epitome of late 70s rock culture, in all the most toxic and wonderful ways. Musically, Rumours combines rich warm vocal harmonies with crisp guitar picking, and the sense of rapidly shapeshifting feelings. One of the best-selling albums of all time, Rumours uses the pop sounds of electric keyboards and three-way harmonies to channel incestuous band relations and rampant drug use into pure art. The pluckiness of the melodies, and the warmth of the layering, and the pure 1970s bliss of this extreme talent is best appreciated on vinyl. Plus, doing research into the backstories playing out during the making of Rumours makes the listening experience that much more intense.

The debut 1996 album from producer DJ Shadow is a gorgeous tapestry of sound. Any audiophile or lover of instrumentals will be able to appreciate the hip-hop album patched almost entirely from vinyl record samples. During the production process, DJ Shadow edited and layered samples into his own moody collages of sound. Considered a landmark recording for instrumental hip hop, DJ Shadow's sampling techniques have influenced the style of many current artists. And given the many layers of vinyl samples, this album is at its best sound quality when played analog. 
The seventh studio album from The Beatles was their last recording before retiring from performing, and they used it to flex their creative range. Hailed as one of the most innovative albums in popular music, Revolver reflected the shifting philosophies and increasingly psychedelic bent of the band. Since they knew they wouldn't be playing live, they went full avante-garde with the recording process. The use of automatic double-tracking, close audio miking, reversed tapes, varispeed, a collage of tape loops and heavy tanpura are all implemented in the album. The psychedelic sounds, and existential songs reflecting on Eastern philosophy, death, transcendence, and loneliness truly shine brightest in vinyl form.
Collecting Beyond Essential Vinyl
When you dig deep into the world of collecting, this list is the tip of the iceberg of must-have vinyl records. If you haven't listened to all of these play through the warmth of your turntable, it's past due to check if they're in stock. At the very least, you know what to add to your wishlist for the upcoming holidays.
Check out some of the best online record stores to see if what you're looking for is out there!