Back in 1985, Austin, Texas, was named the live music capital of the world by Billboard magazine. Today, the city is home to more than 250 music venues where you can enjoy a live show any day of the week. In addition to these venues, music festivals often line East Sixth Street for music lovers to enjoy. But nothing compares to the many choices of record stores in Austin.
Regardless of the genre you love, you'll find an artist you love either holding residency or passing through in Austin. You can even find rising artists that play Texas music at some of the local record stores. Unfortunately, places like Encore Records and Groovers Paradise are no longer around, but there are still plenty of lively record stores in the city. Let's look at the best record stores in Austin and find out what makes them unique.
Waterloo Records
Waterloo Records, located at 600A N. Lamar Blvd Austin, TX 78703, is an icon in the city. The store was founded in 1982, but it is more than a typical record store today. In addition to finding new releases and reissued LPs, there are in-store performances where you can enjoy live music from known local artists.
If you are in the area, check out their calendar of events to see who is performing during your visit to find new artists you enjoy. Every genre is found at this location, but they focus on indie and alternative music. There is also a book and film section in the shop that may draw your interest.
End of an Ear
End of an Ear, located on Clawson Rd, has been a niche-rich record store serving South Austin since 2005. You can find rare punk, indie rock, and electronic treasures that help create the store's atmosphere. One of the best qualities of the location is the knowledgeable staff. If you are unsure about a record, check with one of the staff members to get suggestions.
In addition to selling vinyl and music collections, there are VHS tapes and DVDs available for movie enthusiasts to enjoy. They also sell turntables, speakers, and other stereo equipment from popular brands like Pro-Ject.
Breakaway Records
Don't miss the chance to visit Breakaway Records on North Loop in your search for the best record stores in Austin. Founded in the year 2008, this location features music in genres such as psych, R&B, and soul. While they specialize in vinyl records that are old and new, you'll find cassette and VHS tapes at this location as well.
If you are a fan of original artwork, this is a must-see record store in Austin. Turntables, receivers, and more can be bought a Breakaway Records as well if you are looking to upgrade your stereo equipment.
Piranha Records
Located in Round Rock, which is a short drive from Austin, Piranha Records is a must-visit location in the area. This is especially true if you are looking to add vinyl to your collection of hip-hop from the 90s. The shop also has impressive rock and soul sections that you will want to check out.
In addition to new and used vinyl records, you will find CDs and DVDs for movie enthusiasts to enjoy. Make sure you check out the Piranha merchandise before you head out; they have hats, t-shirts, mugs, and more that could catch your eye.
Antone's Record Shop
Antone's Record Shop was launched in 1987 by founder Clifford Antone. The store came 12 years after the launch of his nightclub, which is located across the street and is still a favored spot for artists like Stevie Ray Vaughn. While Clifford passed away in 2006, thousands still visit this mainstay at 2928 Guadalupe St every year. Antone's is a place to find new vinyl, classics, and all the equipment you need for playback.
In addition to records and equipment, you can also find merchandise like posters and DVDs at Antone's. The staff is also very knowledgeable, and they each have staff picks that span various musical genres.
Exploded Records
Located in the Juiceland neighborhood on Duval St, you'll find Exploded Records, one of the most compact record stores in Austin. When it comes to the overall aesthetic, Exploded Records is very unassuming. The store was formerly a gas station that's been repurposed with the vinyl lover in mind. The pumps are long gone, and now you can buy and sell vinyl or sound systems. The store hosts afternoon sound sessions and has been known to draw hundreds of audiophiles at a time.
Exploded Records was nominated as the best record store by the Austin Chronicle, and it's widely considered well-worth a visit by just about any vinyl lover. There are even live musical performances in the store from time to time.
Living in Stereo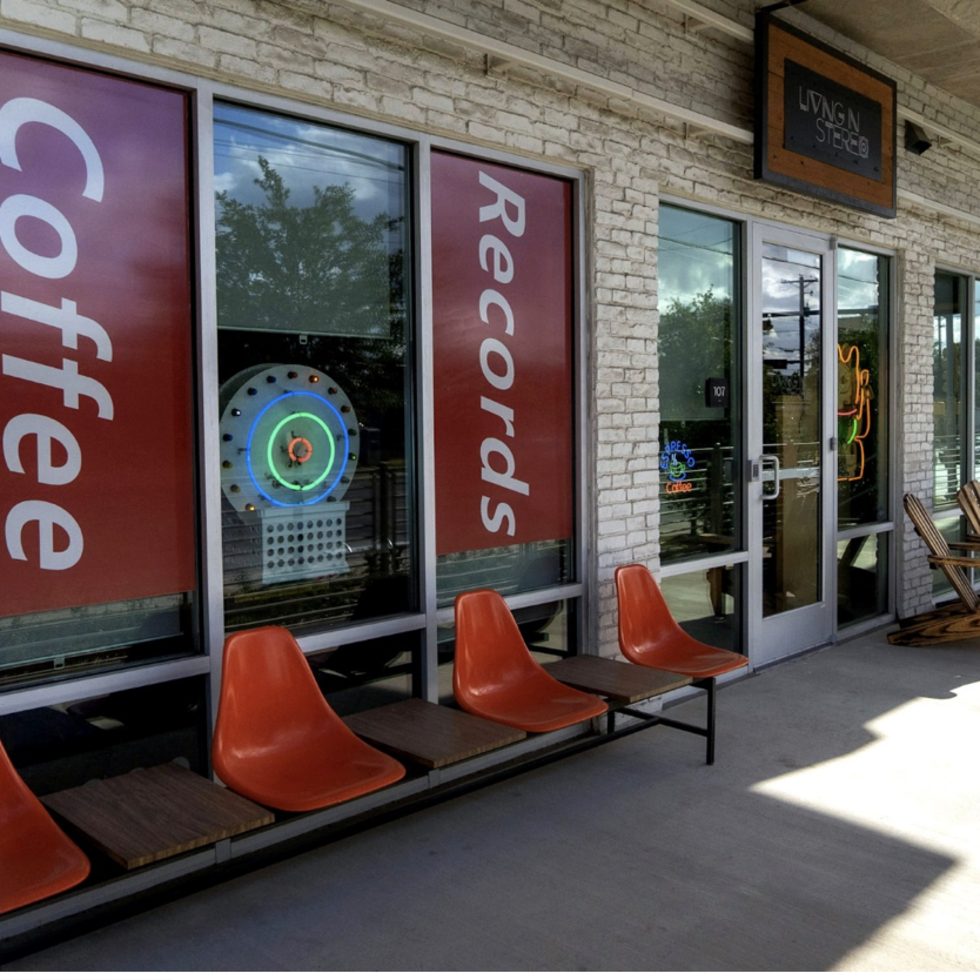 Located close to the classic record stores of bygone eras, like The Sound Gallery and Friends of Sound, you'll find Living in Stereo. Like those other locations, this store is located on S Congress Ave, and if you're looking for vinyl records, home audio, or vintage systems, then this is a must-visit location. According to the owners, the store was created for "designers, music lovers, musicians, and artists" and visitors can even grab a cup of coffee when they visit.
This is an optimal place to experience old-school artists as their music is meant to be heard. The systems they have set up are designed for the audiophile's ear, so spend some time exploring. One of the better features of the store is how it's set up; the designers furnished it in a very homelike way. Effectively, the experience approximates listening to good records while in the comfort of your own home.
Big Henry's Vinyl
Big Henry's Vinyl is located next to Antone's Nightclub, so if you arrive early, check it out while enjoying a Po Boy and a cold drink. In addition to vinyl, they also sell t-shirts, posters, gifts, and more at this location.
Best Record Stores in Austin Honorable Mentions
If you are looking for Tejano or Conjunto music, Turntable Records is a must-see record store. In addition to rare vinyl records, the store is also filled with cassettes that may be considered a gem by music lovers. Finding the best record store in Austin could also fill that thirst for magnetic tape.
BLK Vinyl, which is located at 2505 E 6th St in Austin, opened in 2018. It's a great place to find rock and jazz LPs, so if you are looking for something specific, stop by.
If you happen to be in search of a place to press your own vinyl records, we can't rave enough about the team over at Gold Rush Vinyl. Not only do they make some of the best-looking new discs on the market, but they also rely on Pro-Ject turntables to audition freshly pressed vinyl to the artists who work with them.