Raleigh is one of the up-and-coming major metropolitan areas in the U.S., and it's got quite the arts and music scene. Not only does the city have a vibrant college radio presence, but live music is experiencing something of a renaissance. In fact, it was considered by Rolling Stone to be one of "The Best Music Scenes Right Now." As a result, record stores in Raleigh, NC, are drawing audiophiles from around the country to experience its aural flavor.
Music lovers who live in NC state often travel to larger cities on record store day to find new places to find rare vinyl gems and vintage items. The Raleigh-Cary Metropolitan area in North Carolina, often referred to as the triangle, has several shops to find new and used vinyl at affordable prices. Each location has a myriad of genres and exciting history that is fun to learn. Let's dive in and explore the top record stores to add to your vinyl collection in Raleigh, NC.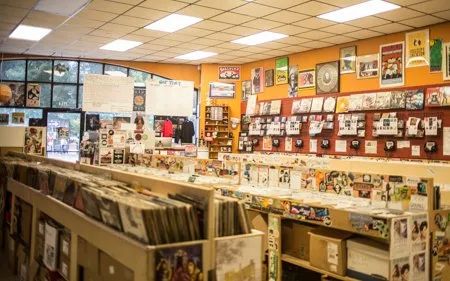 While folks from the Chapel Hill area may know Schoolkids Records, it's also worth visiting the Raleigh store, located at 2237 Avent Ferry Rd, Ste 101. At the Schoolkids Records Raleigh location, you'll find a variety of indie gems from artists like Black Country, Sarah Shook & The Disarmers, and Hippo Campus. You'll also find more established artists, with vinyl available from legends like Paul McCartney and Neil Young at the store.
Schoolkids also has merch, such as T-shirts and hoodies with the iconic fish logo from the store. The store is a great way to stay up-to-date with new releases, but it also has a used vinyl section so that you can find the gems that will augment your collection.
Located at 317 W Morgan Street Ste 105, Sorry State Records is something of a legend for fans of vinyl records. The store has new and used punk titles of music organized lovingly by an expert staff who are well-versed in music history. In addition to punk, there is also an extensive selection of soul, jazz, and alternative rock for vinyl lovers.
Sorry State Records also purchases records for top dollar prices for those looking to sell their extra or unused vinyl. For those looking to buy, the store frequently restocks popular titles, and there's a weekly newsletter that helps customers stay up to date with what's available.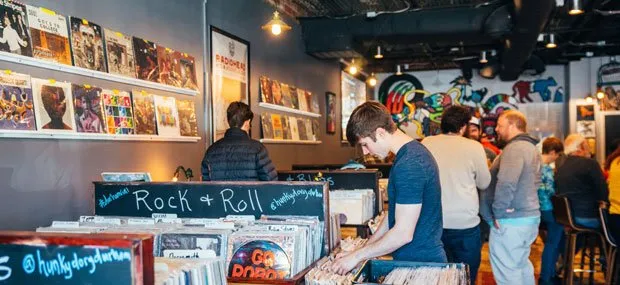 Named after the seminal album by rock great David Bowie, Hunky Dory Records can be found in both Durham and Raleigh. The store in Raleigh at 111 Seaboard Ave has a very classic feel – instantly reminding visitors of the old-school record stores of the 80s. Records are presented in crates, and the well-lit store also provides opportunities to drink on-tap craft beers while listening to in-store tunes.
In operation for 12 years, Hunky Dory has always kept vinyl sales as its primary raison d'etre, and of the store's collection, about 99 percent is used. This means there are plenty of opportunities to grab some true classics from bands like Pearl Jam, Radiohead, and the Grateful Dead.
The Pour House Music Hall & Record Shop is located in downtown Raleigh at 224 S Blount St. If you enjoy listening to live music, make sure you stop by for a show. They have events most nights, so look for something while you are in the area, regardless of whether it's a weekday or a weekend.
They sell both used and new records in the upstairs section of the store. There is even a $1 bargain bin where you'll find treasured vinyl deals that you won't want to miss. In addition to this, drinks can be purchased at the location. In fact, they have quite a few draft beers on tap that are worth tasting as you explore the store.
If you enjoy jazz music, make a stop at The Record Krate. They have three locations that are easy to visit in North Carolina. The address in Raleigh is 508 St. Mary's Street Raleigh, NC 27605. They also have locations in Wake Forest and Selma that you can visit if you would like to check them out and see how the vinyl collection differs from place to place.
The Record Krate sells turntables, cassettes, and vintage t-shirts that you can explore as well. Try some of the handcrafted kombucha brewed on location as you are exploring the vinyl the store offers. There are even record players located throughout the store at listening stations to listen to the artist before diving in and purchasing it.
Located at 3106 Hillsborough St., Raleigh, Nice Price Books & Records is another excellent location to find rare gems for your vinyl collection. If you are searching for something specific, the staff will special order vinyl for you if it's available. New and used records are available as well as other items like t-shirts, books, comics, movies (DVD, VHS, and Blu-ray formats), and turntables from popular brands like Pro-Ject.
Nice Price Books & Records has a bargain bin that you will want to take advantage of. When searching for the top record stores in Raleigh, NC, few others also hold a book club and an artist choice club where individuals gather and talk about books, movies, and music.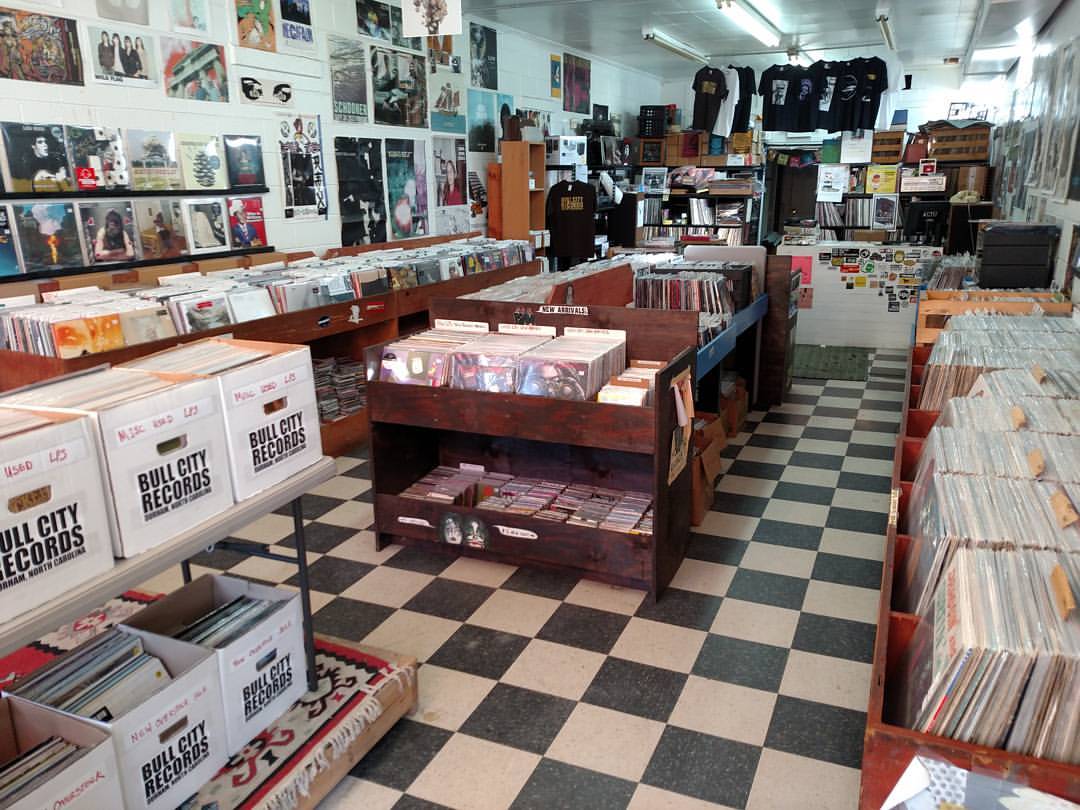 If you are visiting the Durham area, stop by Chaz's Bull City Records – you won't regret it. This store has been around since 2005, so they have an extensive collection. They have new and used records from every genre. If you know what you want and cannot go to the store, they even offer the option of purchasing an album online.
For music lovers that purchase new vinyl monthly, there is a subscription service that will allow you to explore hand-picked staff favorites. This record store also has listening parties for local and non-local artists to help introduce you to new music that you may not have heard.
Run by soul collector and vinyl lover Jason Perlmutter, Carolina Soul Records is located on 117 E Main St. in Durham.
While infamous for selling on eBay and Discogs, Jason is also a purveyor of some of the finest soul, jazz, and funk records in the Raleigh-Durham area. One of the more exciting ways to find new records there is to check out their Soundcloud account where they post mixes every few months. If you hear something exciting and new, Carolina Soul is the place to find it.
It's a brilliant marketing tactic to us!
Sound Off Records & Hi-Fi is a great store where collectors can find rare albums. Located at 14 Glenwood Ave, Raleigh, this location sells both new and used records. If you have records that you want to trade, they also have that option to consider. They also sell turntables, amps, and speakers if you need to upgrade your record equipment. However, equipment sales are only done on the weekends.
The record store is actually where Groove Records used to be located. It became Sound Off Records in 2016 when Anna and Aaron purchased the location. The record store is a pet-friendly building, so feel free to bring in your furry friend for some pets as you browse.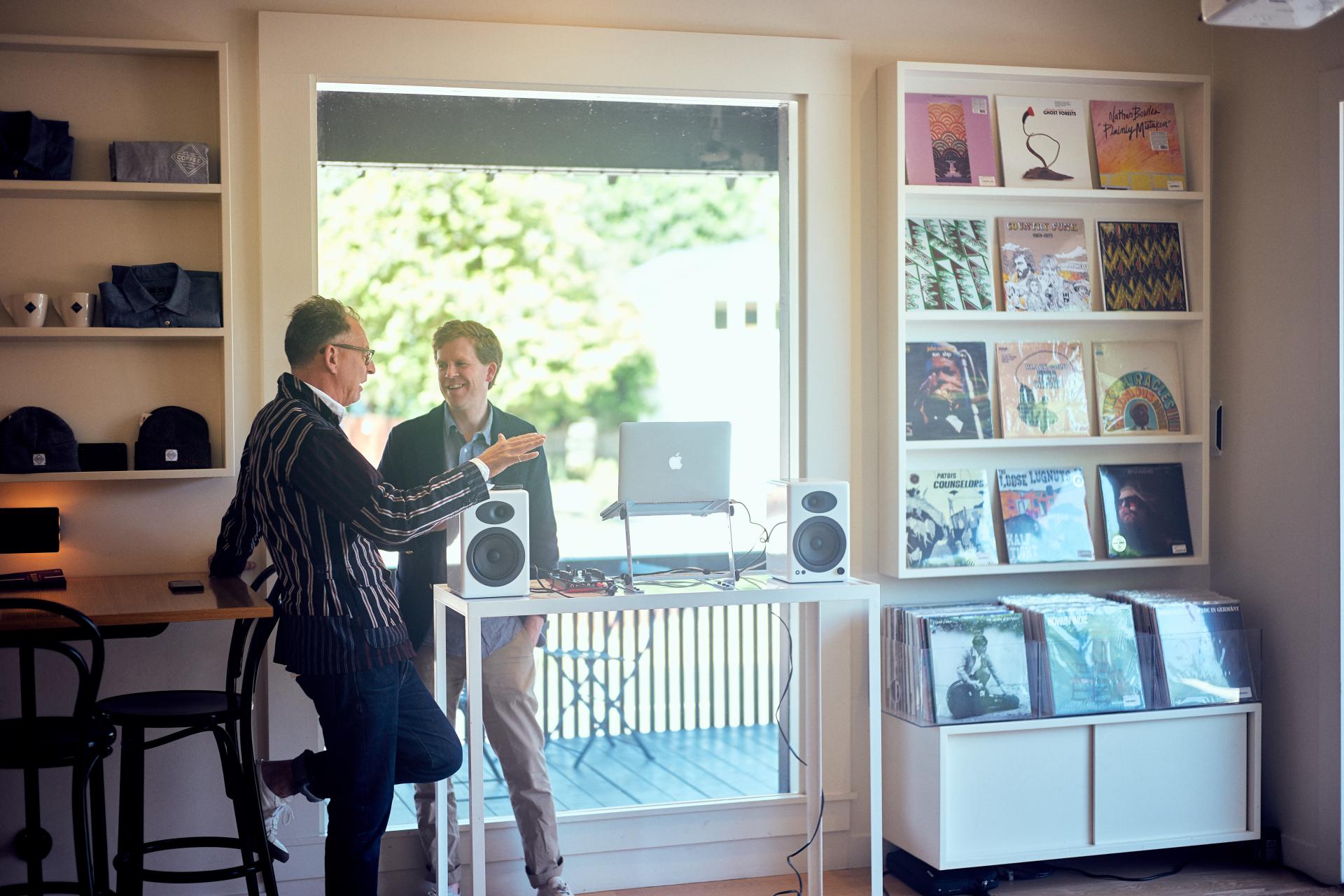 If you plan to explore the surrounding area for vinyl records, make sure you head over to Charlotte and visit Cream Puff Records. Their collection of records is stellar, so you will have no problem finding the genres you prefer. The store also is an excellent option for anyone looking for live music.
In addition to selling both new and used records, Cream Puff Records is also a place where you can purchase clothing, books, and art. There is also a small coffee shop where you can grab a cup to enjoy while browsing through the vinyl.
Record Stores in Raleigh NC: Honorable Mentions
Father & Son Antiques is a vintage record store that sells clothing, furniture, and other accessories. Make sure you check out the upstairs to find a full collection of vinyl records that could hold a true treasure for your collection.
TrunkShow is another one of the more unique record stores in Raleigh NC. In addition to finding records at this location, you will be able to shop for local art and vintage furniture.