If you have an interest in the world of vinyl records, you need to know how to keep the vinyl and the needle clean. Even old phonographs were made with needle tips that you had to clean from time to time. These machines build static electricity, acting like a magnet and attracting dust. If you're not an audiophile, you may not know how to clean a record needle properly. Let's dive into how a dirty stylus affects your listening experience and learn about some steps that you need to take to remove the gunk that accumulates around the styli.
How a Dirty Turntable Stylus Impacts Sound Quality
Clean record player needles help prevent playback issues. When dust interferes with the stylus reading the record grooves properly, you will hear a slight scratching or popping sound when you play the records. If you hear these sounds, it's time to inspect your record player's stylus to see if there is any visible build-up that's removable. 
When a stylus is dirty, you are more likely to hear the needle jump as it navigates the turntable. This is referred to as record skipping, and it can affect the sound of the music.  Dust and grime will also cause additional wear on the stylus tip, which will be heard as you play your music. If you don't keep your stylus clean, it will wear down more quickly. In effect, a clean stylus will help you save money because you won't need to replace it as often. 
Tips to Follow when Cleaning a Turntable Needle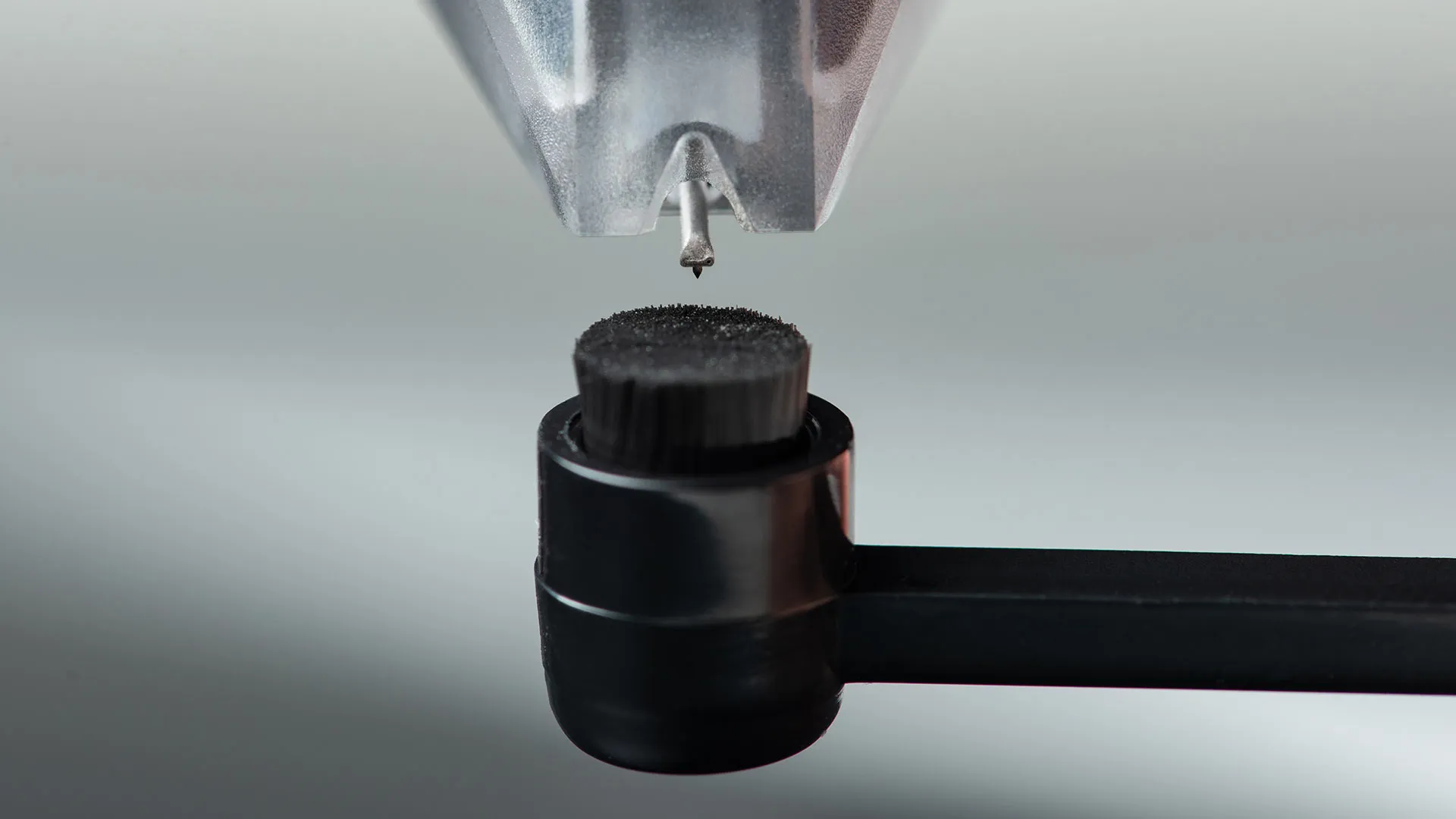 Before trying your hand at stylus cleaning, here are some tips to help new record enthusiasts get back to the hi-fi sound that a clean record player creates. 
Cleaning a record needle should be done once a week. If listening to records is somewhat infrequent, you will be able to clean the needle every other week instead. 

Most record player needles last for about 1,000 hours, so the first time you hear static during playback, it most likely only needs to be cleaned.

When using a brush to clean the tip of the stylus, make sure that you brush in the direction that the record spins. This helps to ensure that the cantilever is not damaged during the cleaning.

Even if your stylus looks clean, before playing a record, whether it's new or used, use an anti-static record brush to ensure no dust is hidden in the grooves that will transfer to the needle.

When cleaning your stylus, use a cleaning solution to get a deeper clean when using a stylus brush.

If you are uncomfortable using a

stylus cleaning brush

on the tip of the stylus, try using a stylus cleaning gel pad. This method may cost more, but it's an option that many feel is less abrasive than the brush bristles.
Steps to Follow During the Cleaning Process
Following the right steps in how to clean a record needle or stylus requires a few select cleaning products. Most cartridge manufacturers provide a brush to use for this reason when you purchase the record player. You will also need cleaning fluid like Pro-Ject's Wash It to do a thorough job. 
Follow these easy steps if you are using a stylus cleaning brush for this DIY process.
Step 1: Select a stylus cleaner to apply to the record needle. Any cleaning solution that is designed for records cleaning will do. If you don't have anything that works, clean the record needle without a cleaning solution. It will remove the dust, but any caked-on grime will be more challenging to get rid of.
Step 2: Apply a small amount of the solution to the brush that you are using to clean the stylus. Since you are only cleaning the needle, very little liquid cleaner is required.
Step 3: Move the brush along the needle in a motion that moves from front to back. You will need to move the brush in the direction that the record spins because going the opposite direction can cause damage.
Step 4: Repeat these steps until you do not see any more grime on the tip of the stylus. 
If you are uncomfortable using a brush, there are other options to try, like the cleaning gel-based cleaning kit mentioned above. With this method, you simply place the gel on your turntable platter, and sit the needle on the gel. Then, raise it back out of the gel. Repeat this a few times to remove all of the grime stuck on the stylus. 
You may have also read forums about cleaning record needles with a Mr. Clean Magic Eraser. To start, gently place a small piece of the Mr. Clean Magic Eraser on the platter. These sponges can be purchased at any hardware store. It needs to be an all white pad because the blue ones are a bit more abrasive and could cause unwanted damage. Lower the tonearm down to touch the pad, and then raise it back up. Do this process about two to three times or until the debris is removed. 
Vinyl Records Cleaning and Proper Storage Helps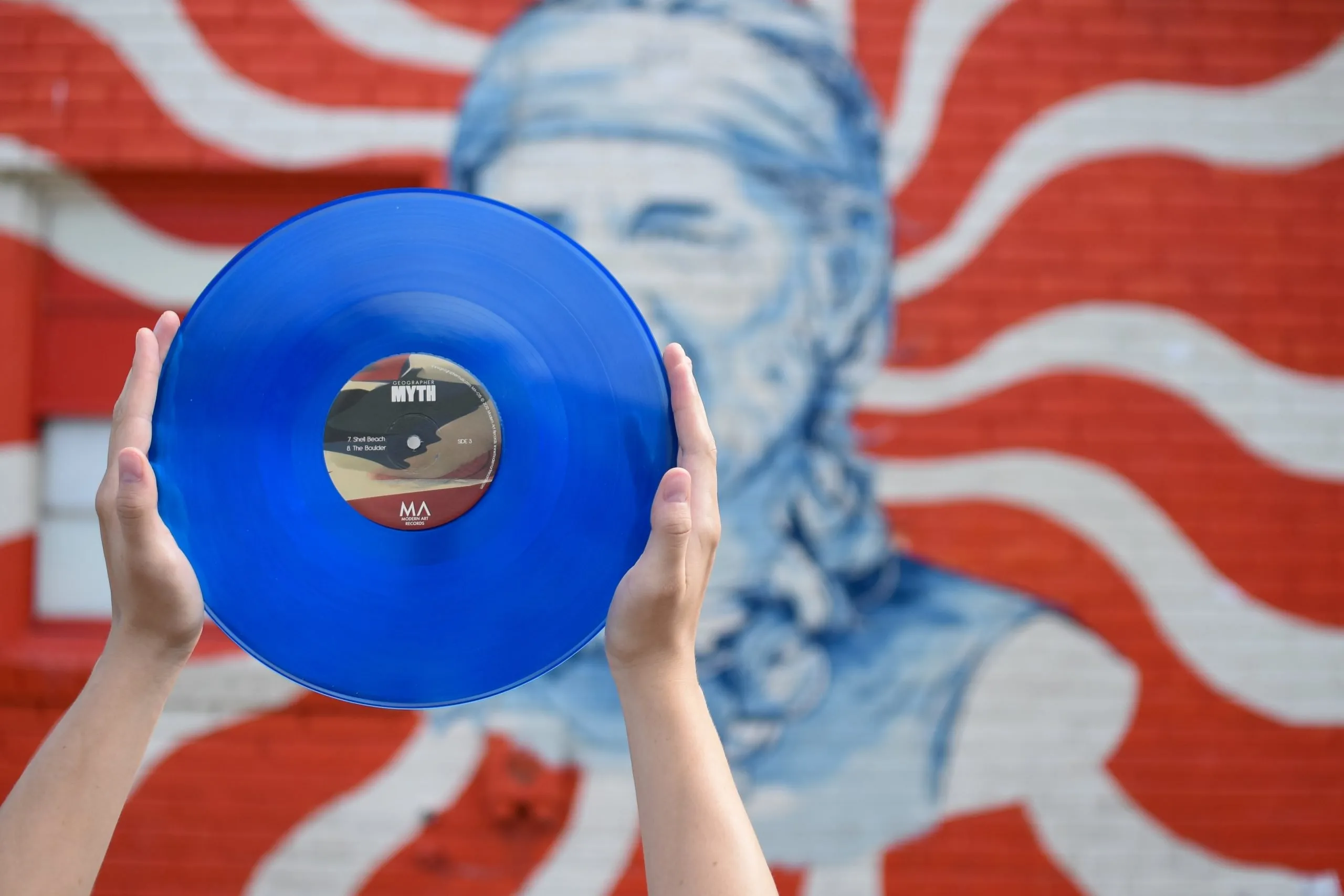 Even if you clean your stylus every time you use your record player, there is a good chance that dust will transfer from your records unless you have clean vinyl as well. Cleaning records revitalizes them and gives you better sound during playback. 
Make sure that you always clean the records in a circular motion from the inner grooves moving outward so that you don't create scratches in the vinyl. Even new records need to be cleaned before use because static builds up, and dust accumulates on the surface before you purchased the vinyl. 
Learning how to clean a record needle is one thing, but record storage can make a big difference.
Record players and vinyl albums also accumulate dust when not stored properly. To protect your turntable, simply use a turntable cover to minimize dust. To keep your records cleaner, you need to use an inner and outer sleeve to reduce the dust that gets on the vinyl. Vinyl records also need to be stored in an upright position in an area where the temperature and the humidity are just right so that damage does not occur.