Whether it's your first time diving into vinyl records, or you've been a vinyl enthusiast for years, shelling out for a record player can be equal parts exciting and nerve-wracking. Figuring out how much should a record player cost while still prioritizing sound quality is a tightrope walk indeed. Luckily, with the resurging popularity of vinyl, there are a lot of options to choose from. So you can easily find a brand and model in your price range.
While there's no one-size-fits all answer to the question of how much you should spend on a record player, there are a handful of factors to consider, and pros and cons to go over. So let's dive into the basic price range for vinyl record players, and where your money matters most.
What's the difference between a turntable and a record player?
A lot of people use the words "turntable" and "record player" interchangeably, but there is a difference between the two. 
A turntable is the platter, tonearm, and cartridge that all work together to play your favorite album. It refers to the connected components that directly touch, hold, and read the record grooves of your vinyl.
A record player is an all-in-one unit that includes a turntable, but also a preamp, amplifier, and built-in speakers. Basically, with a record player you don't need to buy or connect any external components in order to listen to your music.
For beginners, starting with a record player instead of a turntable that requires its own phono preamp and hi-fi stereo speakers might be the way to go. But it all depends on what you want from your set-up, and the actual model itself.
What are the pros and cons of buying an inexpensive turntable?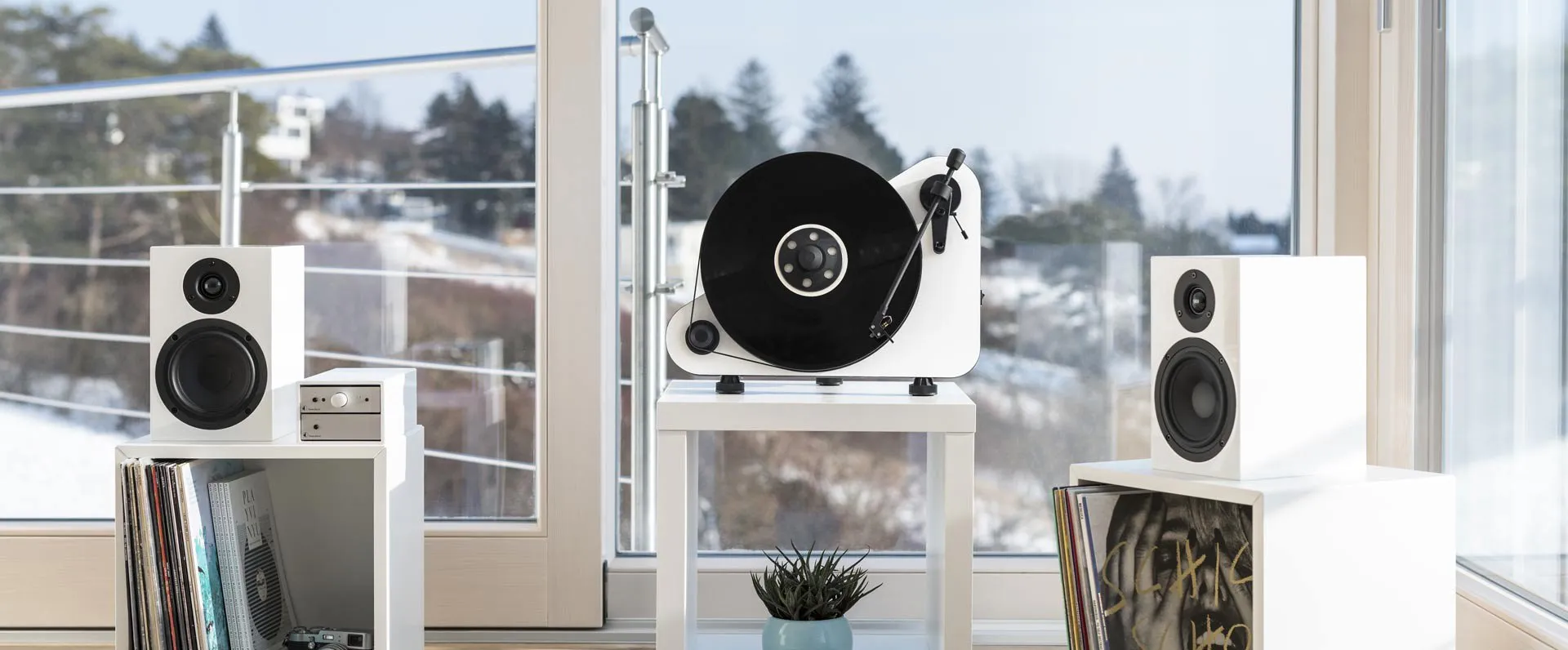 Turntables can get very expensive, very fast. While budget-friendly options can start as low as $50 or $100, good quality mid-range turntables easily run from $300-$700, and high-quality turntables for audiophiles can easily exceed $2,000. So, you may be wondering, is there any harm with springing for cheap record players instead of the more cost prohibitive options?
The answer isn't so straightforward. If your option is to choose between a discount turntable, or nothing at all, then cheaper is no doubt the way to go! Introducing yourself to the joys of an analog listening experience is worth it, even if the initial playback isn't top quality. Learning that you love browsing the local record store for vinyl is an incredible feeling, and once you learn more about that world it's easier to find discounts on great quality gear. 
There is a simplicity to a cheap record player since all the components are there. All you need to do is put an album on, and let it play. Because everything's built in, you don't have to worry about adjusting the tracking force or replacing the turntable cartridge, since that's not possible.
There's a reason suitcase record players are one of the most common picks for music fans on a budget. The set-up is all there, it's portable, and all you have to do is pick which record you want to throw on for a spin.
However, the major con is that low-end record players are far more likely to damage the vinyl. While the best turntables will have a quality drive system and a good platter, affordable turntables are often limited in this way, and have a built-in amp, which means you can never upgrade the source of your sound.
Similarly, an expensive turntable is likely to have a carbon tonearm you can replace or update if needed, while a cheap model might have a plastic tonearm that's not adjustable. The difference in tonearm and stylus quality can directly affect the shelf-life of your records, since the needle is what makes contact with your record grooves. Any damage or misalignment can create scratches on your records, and since you can't adjust a cheap record player, you're left to either deal with the fallout or shell out for an entirely new record player. So, even on a budget, it's more affordable in the long-term to go for the best record player available. In some cases, checking for a slightly used retro model as your entry-level turntable is a better move than getting a new cheap one.
What part should you get for more money? 
If you're buying separate components, you may be wondering what parts of the record player you should spend the most money on. Luckily, when it comes to this question, the answer is simple. Whether you're still blasting a cd player, or you're cueing up the belt-drive turntable, you'll want to spend the most money on the source itself. Even if you have the most high-quality powered speakers in the game, if the stereo turntable playing your music is bad quality, you won't be able to salvage the sound.
If you have the best turntable you can afford, then the model of your turntable cartridge will produce quality sound. Whether you have space efficient bookshelf speakers or a massive stereo system, the source of your sound is going to be the most deciding factor when it comes to what you hear.
What are the components worth investing in?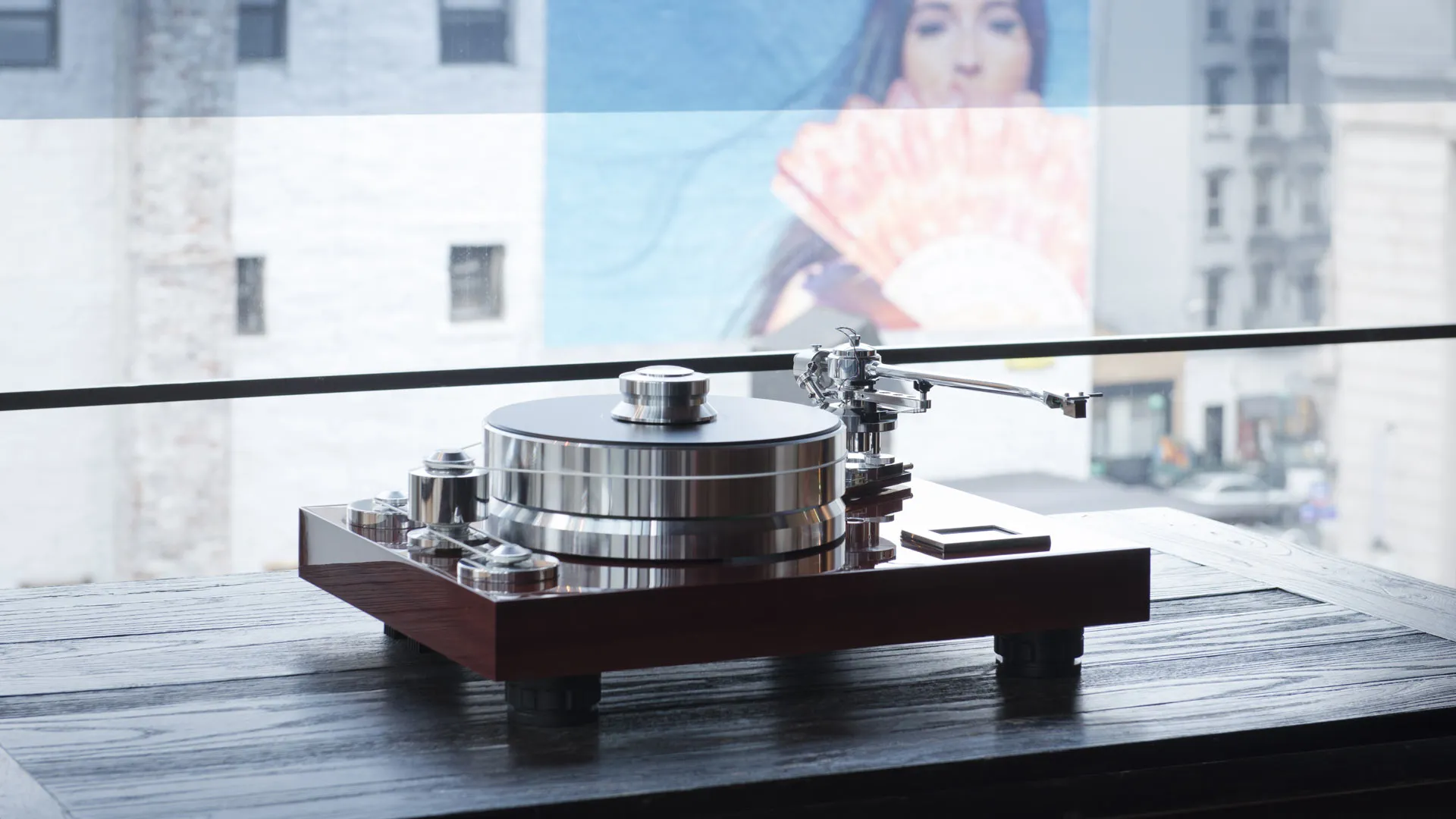 If you want the best sound possible, it's definitely worth investing in the best components out there. No matter what model you land on, springing for a dust cover (like the Cover it E from Pro-Ject USA) is going to help protect your turntable from a lot of potential dust and long-term damage. 
Just as the source itself is of utmost importance, so is the upkeep of your turntable cartridge and stylus. In general, it's recommended that you replace your stylus after 1,000 hours of listening. Depending on how much you listen, this could mean yearly or once every few years. Since this is the component that directly touches your record, you'll want to go for a high-quality replacement cartridge (the Oyster Series from Sumiko is top notch) in order to extend the life of your collection.
While less sexy sounding, the quality of your rca cables also make a huge difference for your sound quality. If you have low-quality rca output, that can cause distortion and interference. But if you have high-quality rca cables (like the Pro-ject Audio Connect It Model Phono RCA on Amazon), then you'll have a deeper soundstage and a low risk of humming.
In reality, the more you can invest in all components of your listening area, the better your sound will be. The easiest way to figure out the hierarchy of where your money goes is to start at the source of the turntable, which parts are replaceable on there (the stylus, the cartridge), and then prioritize the phono preamp (we recommend the Phono Box DC from Pro-ject USA) next, since a bad phono preamp connection can affect what you'll hear through the speakers regardless of speaker quality. Your amplifier quality comes after the preamp, and the speakers, in this specific ordering of components, come last.
This isn't to say that speaker quality doesn't make a difference, it definitely does! But more that, the source and translation of the sound itself will be the initial defining factor. So if you have to spend more, spend it closer to the turntable itself.
The different types of turntables
Now that we've gone over the basics of pricing, and what components demand the most money, we've arrived at the fun part: the types of turntables. Regardless of budget, there are two basic types: direct drive turntables and belt drive turntables. 
In a belt drive turntable (like the Pro-ject Debut Carbon DC), the motor is connected to the platter via an elastic belt. The platter sits on a bearing that is distanced away from the motor. One pro of this design is that the elastic belt helps absorb shocks and protects the platter from catching shaky vibrations from the motor. The isolation of the motor can also result in less noise transmission to the tonearm.
The con is that belt drive turntables have lower torque, which means DJs can't use them. Also, the belt can eventually wear down and require replacement. Another pro though, is that the turntable from High Fidelity was a belt drive.
Direct drive turntables are the most commonly used by DJs. The motor sits right under the platter, which allows for more precise speed control and the sensitivity a DJ can work with. The major pro is that these models have higher torque, consistent speeds and are less sensitive to outside forces.
The con is that the motor's proximity to the platter can sometimes affect sound quality, so it's advisable to invest in shock absorbers.
Another factor to consider is if you want a manual or automatic turntable (like the A1 from Pro-ject USA). An automatic turntable lifts the tonearm out of the resting position and gently lowers it onto the record at the right spot. After it's done playing, it lifts it back up and shuts the turntable off. With a manual turntable (like Pro-ject USA's Signature 12), you guessed it, you'll be the one to lift the tonearm and lower it gently onto the record. 
The major pro to an automatic is that you don't have to worry about finding the right spot yourself, but the con can be slightly less amazing sound quality since there are attachments on the tonearm. The pro to a manual is improved sound quality, so long as you're comfortable doing the work.
To bluetooth or not to bluetooth, that is yet another one of the questions. In the digital era, having bluetooth connectivity in your hi-fi set-up can be majorly appealing. There are bluetooth record players (like the PS-LX310BT from Sony) and bluetooth receivers specifically designed to combine the convenience of bluetooth with the analog joys of vinyl. If you use bluetooth headphones and work around the house, being able to listen to records through your headphones can be a game changer. 
Similarly, if you use bluetooth speakers, you can connect them to your turntable to play without worrying about cords. Bluetooth is generally compatible with most entry-level turntables, but when it comes to high-quality set-ups, it can diminish the sound quality. Because of this, many of the most high-end audiophile turntables don't allow for bluetooth connectivity at all. 
How Much a Record Player Costs Depends on You
At the end of the day, it's your choice how much you spend on a turntable, which parts you sink the most into, and what type you buy. Your budget, available space, and personal priorities are all going to shape your relationship with vinyl. The most important thing is you're enjoying the medium.