Known as a place to celebrate Mardi Gras and enjoy some delightful Cajun cuisine, New Orleans is also a great place to enjoy various types of music. New Orleans music has all the genres including jazz, R&B, soul, and so much more. Local music venues keep you dancing all night but finding some of your favorite LPs at local record stores in New Orleans is a great way to take the party home. Let's queue up some of the best options in town for your next visit to the Big Easy.
The Mushroom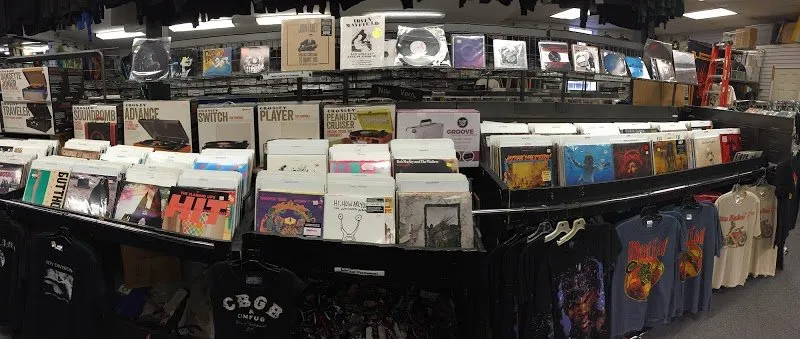 The Mushroom is a record store that originated on Tulane University Campus in 1969. In 1972, this unique record store moved to an uptown location, which is where The Mushroom New Orleans now makes its home. One of the most memorable aspects of this location is the cartoony mushrooms on the walls as you enter the front door.
As one of the oldest vinyl record stores and smoke shops in New Orleans, the owners recognize how important it is for audiophiles to hear the record before they buy it. With that being said, there are new listening stations in the shop where you can easily give your vinyl a test run. They also have huge sales on Record Store Day, so make sure to check them out.
Peaches Records
Peaches Records was located in the French Quarter since its beginning in 1975. In 2016, the record store moved to Magazine Street in Crescent City. In addition to selling LPs, they also sell music in other formats such as CDs and cassettes. Three generations have run this family-owned store, and there are some real gems you can find in their collection.
If you are interested in enjoying live music, check out this location on Record Store Day. The store will open an hour earlier than usual, and there will be live entertainment, free drinks, and ice cream for everyone to enjoy. Limited vinyl pressings will also be on sale.
Domino Sound Record Shack
Domino Sound Record Shack, located at 2557 Bayou Road in New Orleans, is a shop that sells vinyl records of all genres. They have a vast selection to sift through if you are interested in reggae, punk, or garage rock. They also have a trove of jazz and R&B albums with tons of hidden gems to enjoy. The store employs knowledgeable staff who can help you wade through the shop's selections to find what you are looking for without judgment.
This quaint record shack also has live shows from time to time, so make sure you check with the staff to see if there is one that you will be able to attend. If you are looking to sell some of your old records, this shop also buys records for a reasonable price.
NOLA Mix Records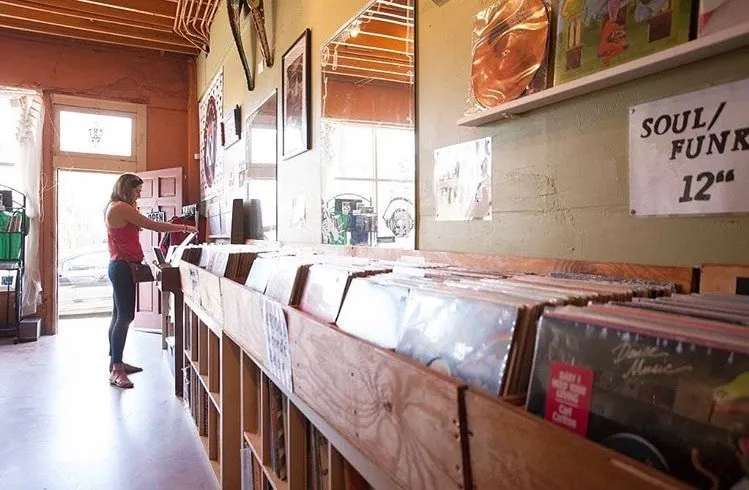 Located at 1522 Magazine Street, NOLA Mix Records is a Lower Garden District record shop where new and used vinyl is found. The independent record shop sells LPs in every genre, specializing in rock, jazz, soul, and gospel. They also have records from local artists that you can check out. There are listening stations in the shop where you can listen to new vinyl before making a purchase.
The store was founded in 2011 and started as a youth-based music production and DJ program. Because of this, the record shop still offers DJ lessons for visitors to take part in. They also have in-store events where you can enjoy the sound of local artists. NOLA Mix Records also sells merchandise like coffee cups, glasses, koozies, tote bags, and more.
Louisiana Music Factory
Louisiana Music Factory is found at 421 Frenchmen St, New Orleans, LA 70116. At the store, which is often referred to as LMF, you'll find both new and used vinyl, merch like t-shirts, and even live music. Genres vary significantly at LMF – it's pretty easy to find jazz, but don't be surprised to find soul, blues, and indie rock at the store.
Snooks the cat is a major star at this store on Frenchmen street of the Marigny, so pay him a visit while you're in town. When you catch a live show, you can reminisce after the fact since the store uploads the performances to YouTube.
Euclid Records New Orleans
While in the Bywater neighborhood of New Orleans, pay a trip to 3301 Chartres St, where you'll find Euclid Records. At this record store, you'll be able to find new LPs and used vinyl, seven-inch singles, and new and used CDs. There is a wide variety of artists available, ranging from Alabama Shakes to McGuire Barry. Music is also accessibly-priced, and the selection is massive.
While Euclid also has a store in St. Louis, the Bywater location is known for being far and away and having the most style and pizzazz. The exterior is painted a bright purple with yellow-painted windows for accent. Set aside a lot of spare time for a visit since the independent record store has rows upon rows of music from indie performers to tried-and-true superstars.
Sisters in Christ Records
Despite the devout name, Sisters in Christ Records is a relatively secular establishment that features multiple artists from a variety of labels. In addition to record sales, the 5206 Magazine St location also has a literature section and runs frequent sales.
Some of the featured artists at this record store include Uniform, Portrayal of Guilt, and Gasmiasma. You'll also find ephemera, such as T-shirts from some of their featured bands as well as items like tote bags that feature slogans like, "Join the Punks – Sisters in Christ."
Honorable Mentions for Record Stores in New Orleans
The White Roach, which can be found on Magazine Street, is a vinyl lover's dream and has a wide variety of albums from artists like Irma Thomas, Sade, and David Bowie. The store also buys records.
The Lower Garden District's Disko Obscura is a record store that supports smaller independent/underground artists and labels. You'll find artists like Faze Island, ANDI, and Billy Lotion as well as merch from multiple supported artists.