EVO Tonearm Range Overview
The tonearm is instrumental (audio pun intended!) to the performance of your vinyl playback system. If sound quality is a top priority for you, it's essential that you consider the tonearm part of the equation. Thankfully with Pro-Ject, you don't have to think too hard about it. We understand that a phono cartridge can only perform its best when mounted to a rigid, carefully & precisely-machined fixture that is free of friction & unwanted resonance. Every Pro-Ject tonearm passes this test. You won't find that nagging 'play' (or wiggle) in our tonearm bearings, and we use the materials that offer you, the listener, the best balance of cost-to-performance; keep in mind that Pro-Ject popularized the concept of reasonably priced one-piece carbon fiber tonearms.
While every Pro-Ject turntable includes a top-notch tonearm, we know that there will always be that population of vinyl enthusiasts who listen more critically and engage more heavily with their audio gear. After all, in this hobby, even small tweaks can make noticeable differences. We aim to put the control in your hands with our latest series of optional tonearms designed to work with existing Pro-Ject plinth geometries. Now you have the option of pursuing, purchasing and installing the tonearm that best suits your listening habits and that provides an optimal physical match for your phono cartridge (or cartridges!).
Today we're here to give you a what's what with the new EVO tonearm line. You can view the range essentially as 4 tonearms available in 3 lengths (9, 10 or 12 inch) and in 2 finishes (black or high-gloss silver). This should help you sift through the nomenclature…
Formula: EVO + length + standard or premium + finish = tonearm model
9, 10, 12 = effective tonearm length
CC = carbon fiber armtube
CA = carbon/aluminum armtube
AS = aluminum, S-shaped armtube
3 of these tonearms are not new! Yes, their names have been rearranged slightly for the sake of clarity. The EVO 9 CC Black, EVO 10 CC Black & EVO 12 CC Black have been shipping with our Xtension 9 Evolution, Xtension 10 Evolution & Xtension 12 Evolution turntables (respectively) for years now. RPM 9 Carbon & RPM 10 Carbon ship with the EVO 9 CC Black & the EVO 10 CC Black. You'll also find the EVO 9 CC Black on the X8 Evolution, the 6 PerspeX SB as well as the RPM 5 Carbon turntables.
To continue using the EVO 9 CC as an example, it can now be ordered in silver, denoted simply with an HG (high-gloss). The tonearm model then becomes EVO 9 CC HG. Were it the Premium version, it'd look like this: EVO 9 CA Premium Black or EVO 9 CA Premium HG. We've laid out all options conveniently on our site. Visit the links below and click the "Length" and "Finish" boxes to view the variations…
EVO CC – Straight, One-Piece Tonearm
EVO AS – S-Shaped Tonearm w/ Removable Headshell
EVO CA Premium – Straight, One-Piece Tonearm
EVO AS Premium – S-Shaped Tonearm w/ Removable Headshell
Standard tonearm versions include the following…
High-purity copper tonearm wire
Carbon fiber armtube (EVO CC)
High-mass aluminum tonearm gimbals
ABEC 7 quality Cardanic bearings
Premium tonearm versions include the following upgrades…
Crystal-matched high-purity silver tonearm wire
Carbon/aluminum armtube (EVO CA Premium)
High-mass stainless steel tonearm gimbals
Stainless steel counterweight with enclosed TPE damping
ABEC 7 quality Cardanic bearings (top-tier selection)
For Your Consideration
All HG parts are hand-polished at the factory in Europe. All tonearms ship with 2 counterweights for optimal cartridge matching. Additional counterweights are available for special-order. Any turntable can be special-ordered with your preferred tonearm factory-installed and with the price prorated accordingly.
X8 Evolution Turntable w/ EVO 9 CC HG Tonearm
The X8 Evolution is one of our most hard-hitting audiophile turntables in terms of price/performance value. It merges strengths of the Xtension 9 Evolution with more affordable aspects of the X2 B turntable which helps keep the price down. It ships standard with the EVO 9 CC Black tonearm and is pictured below with EVO 9 CC HG, featuring hand-polished, high-gloss (HG) aluminum parts. Any 9″ Pro-Ject tonearm acts as drop-in replacement and each are a snap to work with. Two lateral grub screws through the armboard fasten the tonearm in place, the phono signal is sent to your phono preamp with the balanced 5-pin DIN output (also allowing you to upgrade your phono cables). For True Balanced operation, use a DIN > XLR cable to a balanced phono stage. If used with Pro-Ject's Phono Box S3 B or Phono Box DS3 B, a DIN > Mini XLR cable is also suitable.

RPM 9 Carbon Turntable w/ EVO 9 CA Premium Tonearm
Have a look next at the the RPM 9 Carbon audiophile turntable. This is a special machine with the trappings of a turntable costing much more than it does. The chassis is cut away to eliminate the resonance potential of larger plinths. It is then filled with metal granules for additional isolation. The motor is the stand-alone type, further preventing vibration from reaching the platter. The high-mass record platter is precision-machined from aluminum, TPE-damped and adds an integrated vinyl record mat with our world-famous Record Puck. It rotates on an inverted ceramic ball bearing for the utmost precision & longevity. The supplied tonearm is the EVO 9 CC Black, and here we're showing you what the turntable looks like with the EVO 9 CA Premium HG.  This tonearm uses a 2-layer armtube of aluminum wrapped in carbon fiber. The bearing gimbals are made from hand-polished stainless steel. The counterweight & stub are also improved over the standard EVO 9 CC Black tonearm. The RPM 9 Carbon levitates on opposing magnets within the isolation feet and does not included a base. Here we're showing it with a Ground it Deluxe 1 isolation platform- another add-on to boost isolation & enhance sound quality.
Xtension 10 Evolution Turntable w/ EVO 10 AS Tonearm
The Xtension 10 Evolution builds on the merits of the Xtension 9 Evolution. It uses a larger, more massive & resonant-absorbing MDF plinth to support a much heavier TPE-damped machined aluminum record platter, again with the integrated vinyl mat to be couple with your vinyl LPs with the supplied Record Puck. The plinth is filled with metal granulate and floats on opposing magnets in the isolation feet. The larger plinth accommodates a 10″ tonearm, the length of which widens the tonearm's arc across the record which in turn reduces distortion caused by tracing error. The EVO 10 CC Black is the standard tonearm while below we show you the Xtension 10 Evolution (in Palisander) with the EVO 10 AS tonearm- the s-shaped variety with a user-replaceable headshell. The detachable  headshell is perfect for cartridge collectors & enthusiasts who like to experiment with various voicings.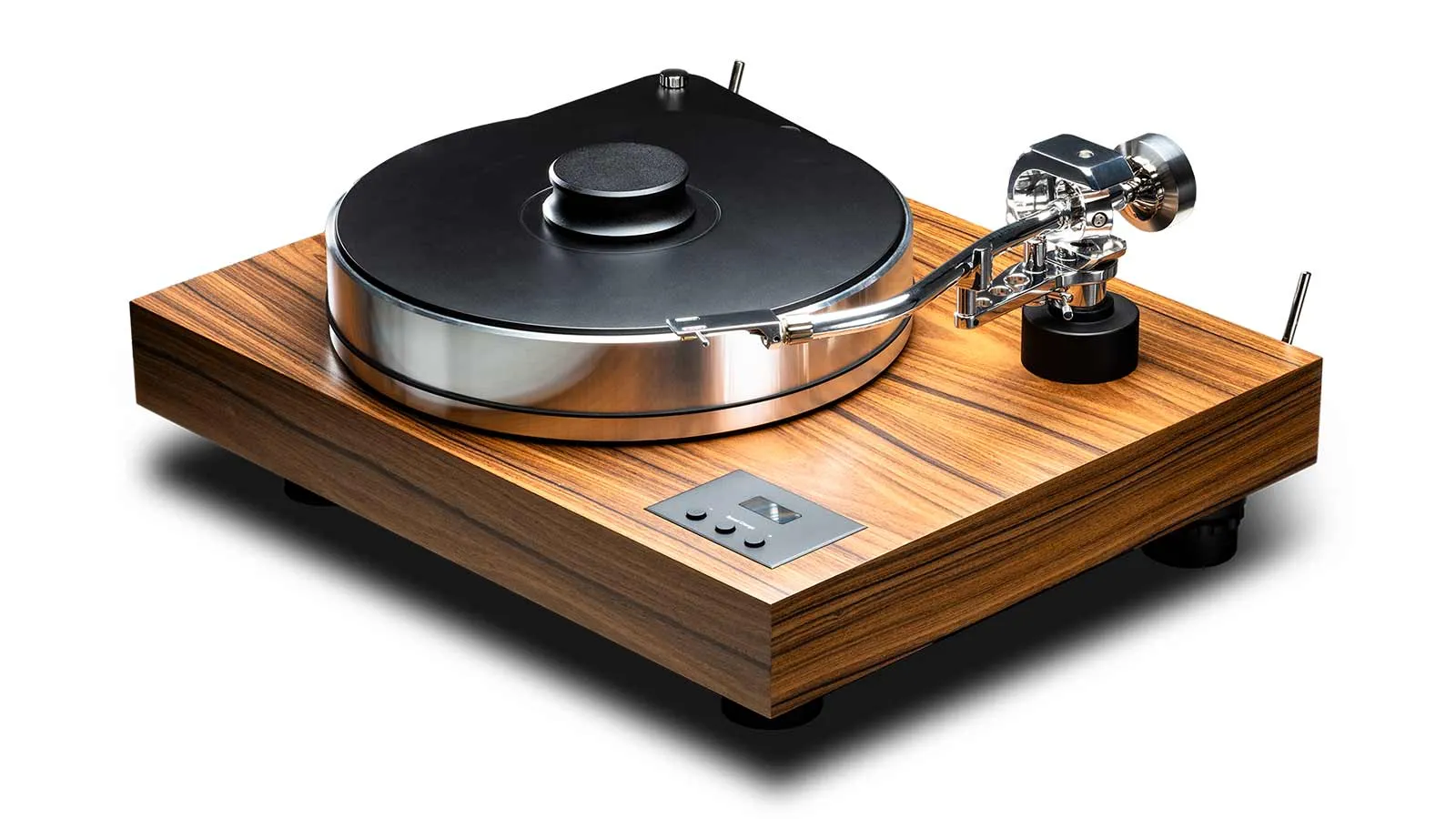 Xtension 9 Evolution Turntable w/ EVO 9 AS Premium Tonearm
Our beloved Xtension 9 Evolution is pictured below (in Eucalyptus!). This time we're showing you the EVO 9 AS Premium Black tonearm (EVO 9 CC Black is standard). Suspended on opposing magnets within the feet, the meaty MDF plinth all but floats- free from vibration-born interference. The plinth itself is filled with metal granules to create a central mass point that draws resonance away from the platter, arm & cartridge. Opposing magnets around the bearing shaft (in plinth) and bushing (in platter) allow for smoother rotation & bearing relief. The motor is isolated in its own housing away from the platter and tonearm. A high-mass, TPE-damped aluminum platter rotates on an inverted ceramic ball bearing and again, the integrated vinyl mat & supplied Record Puck couple your vinyl LPs to the platter. Adding up all the audiophile implementations, the X Series turntables are capable of some seriously high fidelity, even more-so with an EVO CA Premium or EVO AS Premium tonearm.